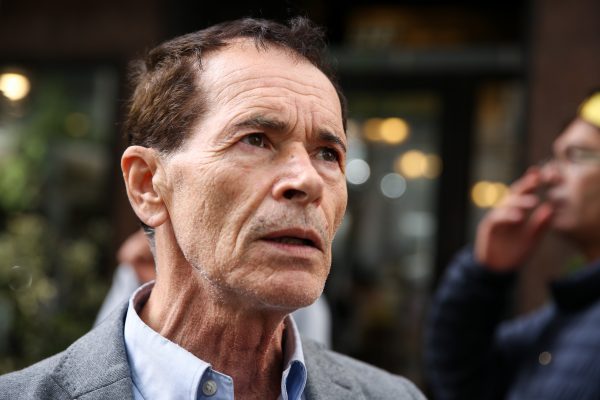 Iranian Foreign Minister Mohammad Javad Zarif suggested in a tweet Thursday that Netanyahu was throwing stones from a glass house, and ridiculed his use of props and oversized display boards.
The response came after Netanyahu on Thursday claimed at the General Assembly that Iran has a "secret atomic warehouse" on Tehran's outskirts and challenged United Nations inspectors to examine it.
Denouncing Netanyahu's claim, Zarif said: "No arts & craft show will ever obfuscate that Israel is only regime in our region with a *secretundeclared* nuclear weapons program".
"Israel will never let a regime that calls for our destruction to develop nuclear weapons".
Netanyahu opened his speech by claiming that Iran had a secret atomic warehouse in Tehran, holding up a map and a photograph of an outwardly "innocent looking compound" which he urged the United Nations atomic agency to inspect.
Netanyahu claimed the warehouse was used for "storing massive amounts of equipment and material from Iran's secret weapons program", which was quickly being moved to other parts of the city.
Bahram Qassemi, spokesperson for Iran's foreign ministry, also dismissed Netanyahu's claims as "ridiculous and baseless", according to the Isna news agency.
Zarif further called Netanyahu's accusation an "obscene charge", the state-run IRNA news agency reported Friday, and branded the Israeli prime minister a "liar who would not stop lying".
Bennett's party colleague MK Bezalel Smotrich said it would "be very unusual if he [Trump] repeated the mistakes of his predecessors" and "try to promote a solution based on the establishment of a hostile terrorist entity that would continue to strive to destroy the State of Israel". Just last month they removed 15 kilograms of radioactive material. "They took it out and they spread it around Tehran in an effort to hide the evidence". The site may contain as much as 300 tons of nuclear-related equipment and material in 15 shipping containers, he added. Under the nuclear deal struck by Iran and six major powers - Britain, China, France, Germany, Russia and the United States - Tehran agreed to limit its nuclear program in return for relief from US and other economic sanctions.
According to the Jerusalem Post, "Smotrich called on the Netanyahu to present alternative out-of-the-box ideas to the U.S. that do not involve dividing the Land of Israel or "fostering national illusions" among Arabs".
France, Britain, Germany, China and Russian Federation have stayed in the pact, vowing to save it despite the restoration of USA sanctions and this week discussing a barter mechanism they hope may allow Iran to circumvent the US measures.
At the time, Netanyahu was mocked online for dumbing-down his presentation for an alleged "audience of one" - namely US President Donald Trump.
A second USA intelligence official called Netanyahu's comments "somewhat misleading. Not now, not in 10 years, not ever", he said.
He also claimed that the Iranian-linked Lebanese Shiite militia Hezbollah had positioned 3 missile sites near Beirut airport, holding up what he called "a picture worth a thousand missiles" and titled "Beirut Precision Guided Missile".
The IAEA and Hezbollah were not immediately available for comment.