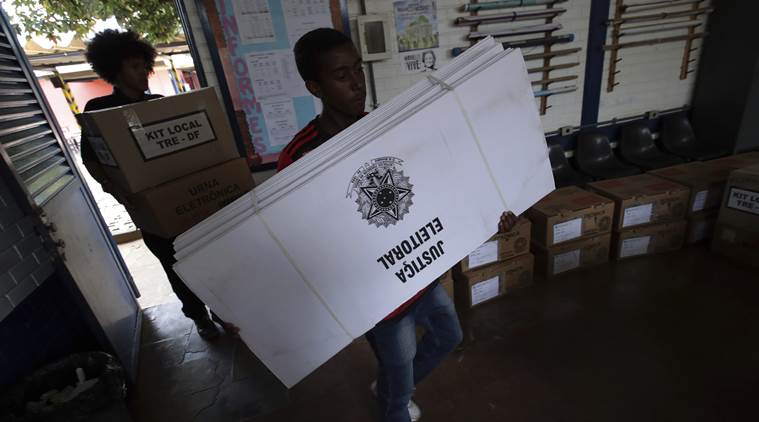 Bolsonaro of the Social Liberal Party narrowly missed out on the outright majority required for first round election success on Sunday, winning 46 percent of the vote.
147 million people were eligible to vote.
The last surveys released on Saturday credited him with 36% against 22% for his nearest rival, leftist former Sao Paulo mayor Fernando Haddad.
"I hope that God gives Bolsonaro health", Haddad said at a rally on October 2, adding: "I hope he lives 120 years for him to see that the world he has in his head is not the world he will have in Brazil".
Haddad, addressing his own supporters, called the looming run-off "a golden opportunity", and challenged Bolsonaro to a debate.
Brazilians appear on the cusp of handing the presidency to a brash former army captain who has reminisced fondly about dictatorship, pledged to jail corrupt politicians and promised an all-out war on the drugs and crime that plague South America's largest nation.
In the past, Bolsonaro pushed for legislation that would require the machines to print voting receipts - an idea endorsed by experts who say voting machines not connected to the internet can still be hacked.
Bolsonaro almost won the presidency in Sunday's first-round vote, taking 46 percent of votes against Haddad's 29 percent.
A supporter of Jair Bolsonaro, presidential candidate with the Social Liberal Party, celebrates. "They don't know what it was like under the dictatorship", he said.
Bolsonaro has said he will prioritize cracking down on corruption, making the Brazilian central bank more independent, and transitioning state-run companies to the private sector.
If the exit polls are confirmed, he will face Fernando Haddad from the left-wing Workers' Party in the second round on 28 October.
"I didn't like any of the candidates and I felt obliged to choose the lesser of two evils", said Frederico Vasconcellos, a 68-year-old retired metalworker.
With 13 million unemployed, Brazilians voters seem ready to take a chance on a new leader. The Workers' Party "managed to ruin the country with corruption and theft".
Bolsonaro, whose campaign was called "Brazil above all, God above everyone", has pushed a nostalgic narrative that he can bring back better times.
In one of his last appeals to voters before Sunday's voting, Mr Bolsonaro tweeted that he would "defend the family and the innocence of children, treat criminals as such and not get involved in corruption schemes".
Running his campaign as an outsider, without the support of a large party, with restricted funds and nearly no TV airtime, Bolsonaro managed to capitalise on voters' deep dissatisfaction with traditional politics, rampant corruption, and growing criminality.
Reflecting confidence that he will win the second round, Bolsonaro said he had already begun talks with other lawmakers in Congress to build an eventual governing coalition.
Much like the left in the United States has adopted a very aggressive form of confrontation and harassment of political opponents, the same has happened in Brazil.
"We're going to have a huge caucus, perfectly governable, to pass the bills that the society is demanding - to conclude the reforms that are underway", Bivar said, referring to stalled efforts to trim public pensions and close a budget deficit. "We are on an upward trajectory and are confident that the Brazilian people want to distance themselves from socialism".