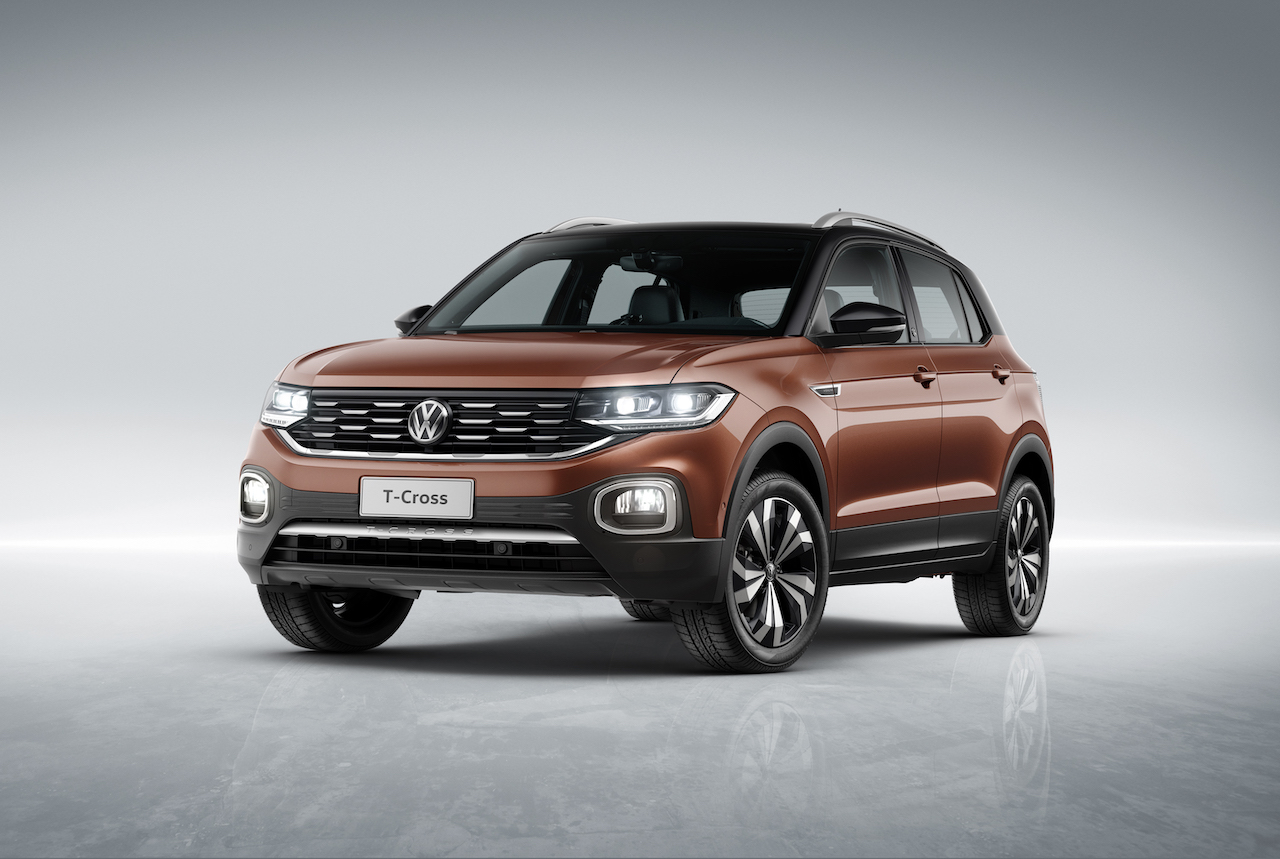 Volkswagen has officially revealed the all-new T-Cross after months of waiting. It measures 4,110 mm in overall length and has a wheelbase of 2,560 mm.
The VW T-Cross had its world premiere in Amsterdam, Shanghai and São Paulo yesterday. The new model rides on the same platform as the sixth generation VW Polo and the VW Virtus - MQB A0.
The new range of engines announced with T-Cross SUV are 1.0 liter petrol TSI 3 cylinder in two tunes of 95 PS and 113 PS. The front grille gets horizontal slates that extend all the way to the headlamp, fog lamps integrated into the front bumper, prominent wheel arches and fairly deep creases across the car's body. The luggage compartment holds between 385 and 455 litres in the standard wheelbase version and between 373 and 420 litres in the long-wheelbase version. The familiar 1,0 TSI three-cylinder petrol engine (with a petrol particulate filter) generates either 70 kW or 85 kW, while the flagship draws 110 kW from its 1,5 TSI four-cylinder heart. With the seat backs folded down, the T-Cross offers 1,281 litres of luggage space. The T-Cross debuts with four turbocharged power plants: three gasoline and one diesel. The introduction of the T-Cross and others is partly due to VW wanting to pay for its electric and autonomous ventures, VW board member Jürgen Stackmann said.
This SUV was earlier previewed as the Skoda Vision X. The production-spec SUV will see stiff competition from the likes of the Nissan Kicks, the Tata Harrier, Renault Captur and the Hyundai Creta, and this means the model should come with premium interiors and a long feature list as well. Equipment includes pedestrian monitoring and automatic emergency braking, lane-keeping and lane-changing assistance. Driver Alert System, automatic adaptive cruise control and Park Assist are available as options.
T-Cross sales start next spring in Europe. Model Cara Delevingne behind the wheel of the all-new Volkswagen T-Cross. The stylish cabin also features Volkswagen's latest touchscreen infotainment systems, up to four USB ports and optional wireless phone charging. For the 2017-2027 period, independent forecasting institutes expect an approximate doubling worldwide of so-called CUVs (Crossover Utility Vehicles) in the small auto segment - the class to which T-Cross belongs. It will come to India as a sub-four metre SUV and as a part of Volkswagen India's 2.0 plan, but that will happen around 2021. Volkswagen has also confirmed the new crossover will be made in South America and China, where it is "specially tailored" for those two "growth markets".