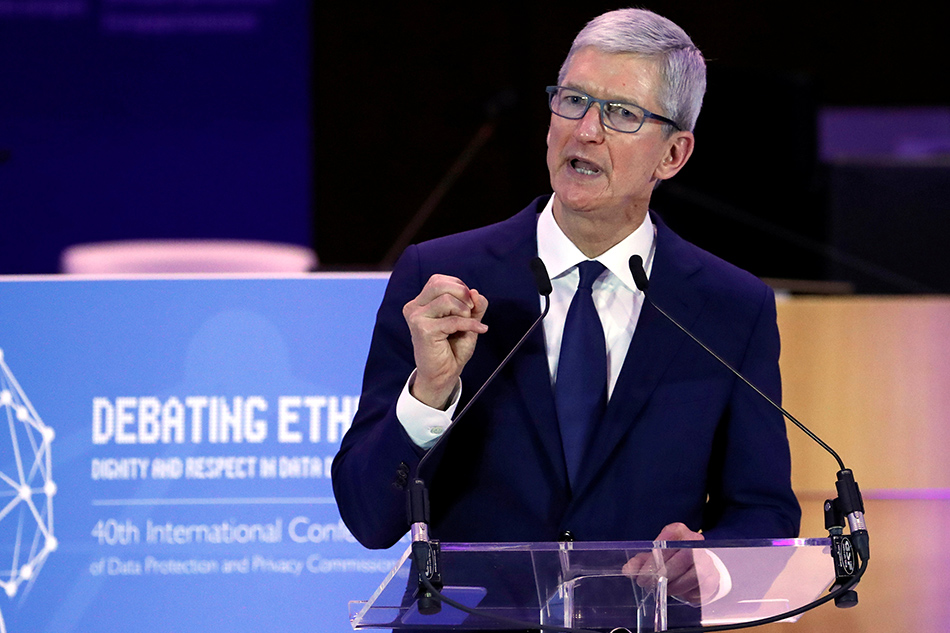 However, he warned that the mass collection of private data amounts to surveillance in action.
The comments, given at an European Union privacy conference in Brussels yesterday, come months after the bloc implemented strict new data protection rules and as Apple begins to mend a hard relationship with the European Union following a clash over €13bn in allegedly unpaid taxes.
He said that the mass collection of consumer data from internet use and the devices sold has resulted in a "data industrial complex" forming with "military efficiency". "Our hopes and dreams". First, he called for the tech firms to de-identify customer data or "not collect customer data in the first place".
His speech comes a week after Apple unveiled expanded privacy protection measures for people in the U.S., Canada, Australia and New Zealand, including allowing them to download all personal data held by Apple.
Cook said a USA privacy law should allow for personal data to be minimized and force companies to de-identify customer data or not collect this information in the first place.
Mr Cook said the kind of information people often disregard as harmless on its own could be built up into an digital profile that "lets companies know you better than you may know yourself".
"Your profile is then run through algorithms that can serve up increasingly extreme content, pounding our harmless preferences into hardened convictions".
Apple has long positioned itself as a protector of user privacy, notably declining to cooperate with the Federal Bureau of Investigation in 2016 when authorities sought to unlock an encrypted iPhone belonging to one of the San Bernardino shooters.
"There is a crisis of public faith in technology and the crisis is not imagined or insane - it is real".
Cook's message will make for uncomfortable reading for other tech leaders such as Facebook CEO Mark Zuckerberg and Google CEO Sundar Pichai, both of whom are to share their thoughts via video messages at the same conference.
Cook recalled how, in the early days of Apple, the company came under "enormous pressure" to "bend our values" on privacy issues. "We at Apple are in full support of a comprehensive federal privacy law in the United States", he added.
The Apple boss did not mention any companies by name, but Facebook CEO Mark Zuckerberg chose to speak up to defend his company's ad-based model. They may say to you, 'our companies will never achieve technology's true potential if they are constrained with privacy regulation.' But this notion isn't just wrong, it is destructive. "We believe that privacy is a fundamental human right", he added.
This is far from the first time Cook has been critical of the tech world's constant need to gather more and more personal information from consumers, but this might be his most explicit call for change.
That trade in personal information "has exploded into a data industrial complex", he argued in an impassioned speech congratulating Europe for introducing the GDPR privacy regulations. On that note, Cook walked away from the ring as the heavyweight champion for privacy with two TKOs.