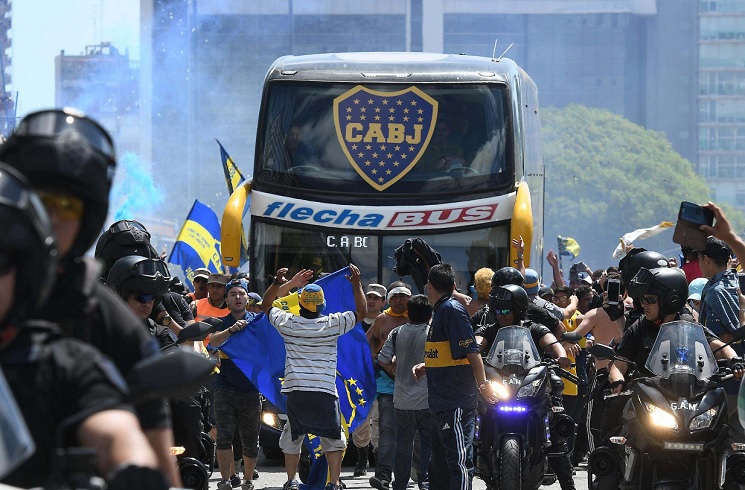 A statement from the club read: "Boca Juniors have on Sunday presented a formal request to CONMEBOL for the Copa Libertadores final to be played on a level playing field, as per the agreement made by the presidents of the South American clubs, Boca and River, Saturday at the Monumental".
The match was called off for the second time in 24 hours when it became clear that Boca players were not in a sufficient condition to play and guarantee "sporting integrity" after the attack on their bus en route to the Monumental stadium on Saturday.
A new date, thought to be December 8, is expected to be announced after a meeting tomorrow/on Tuesday in Paraguay between the presidents of the two football clubs and representatives from south American soccer federation CONMEBOL. However, city government yesterday ordered River Plate's stadium closed for exceeding capacity limits and failing to keep exits clear, casting doubt on whether the second leg will go ahead.
A Boca Juniors bus is attacked by opposition fans in Buenos Aires, Argentina in this still image taken from a video obtained from social media.
On Saturday, Boca said they were in no position to play the game due to the injured parties needing medical treatment at hospital.
The postponement was caused by yet another incident of soccer violence - a problem that has long blighted the sport in South America and several years ago prompted Argentina to impose a ban on visiting "away" supporters.
"We can not play. They are forcing us to play the match".
The first leg between the two Buenos Aires-based sides ended 2-2.
At least 29 people were arrested on Saturday in the Argentine capital for violence ahead of the Copa Libertadores final, which led to the game being rescheduled.
"CONMEBOL demands from the competent authorities' immediate action and offers all its collaboration to identify, capture and prosecute those responsible".
It was due to take place on Saturday, but after an initial two-hour delay for the kick-off, the match was postponed until Sunday. "I understand [CONMEBOL] are under a lot of pressure", he said. The board of CONMEBOL has taken the decision that there is no equality in the current conditions. "What we've lived through has nothing to do with a Libertadores Cup final. regardless of whether it's against River or any other team, both teams have to reach the final under equal conditions".