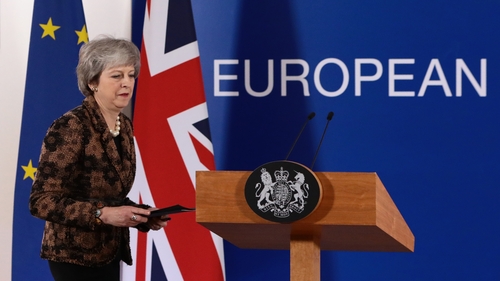 Education Secretary Damian Hinds told the BBC a second referendum would not end the deadlock over Brexit but might simply extend the impasse.
The prime minister, however, rejected attempts to hold so-called indicative votes on other options to her Brexit deal in a conference call with the cabinet last Monday.
He renewed his public campaign for a second referendum on Friday with a new speech warning Mrs May's deal was in "crisis" and a vote was the only answer.
This is why some of her closest advisers and some prominent Tory MPs are seriously considering calling for a second referendum on Great Britain leaving the EU. At a press conference on Tuesday, leaders of the smaller opposition parties urged the government to consider it as a contingency worth preparing for.
"But we shouldn't pretend that there wouldn't be disruption, there wouldn't be risk, and there wouldn't be impact and that's why as a responsible government we have to make all the preparations necessary".
May last week survived a confidence vote initiated by members of her own Conservative Party because of her Brexit strategy but she is badly weakened after a third of her parliamentary party voted to be rid of her.
The argument for a second referendum advanced by one minister was simple: If nothing can get through Parliament - and it looks like nothing can - the question needs to go back to voters.
While Brexiteer and former Conservative Party leader Iain Duncan Smith told The Times that "all hell would break loose" if the Tory government brought about a second referendum and said the United Kingdom must prepare in earnest for a clean break from the EU.
May herself has acknowledged that Britain's parliament appears deadlocked with no clear support for any option, with the small Northern Irish party that props up her government leading the criticism of her deal.
"It is perfectly clear neither the British people nor their Parliament will unite behind the Prime Minister's deal".
The leading Brexit supporter added that "if there is a referendum. people like me will immediately start asking that it's best of three".
"That would be a very big negative for the deal", Trump said.
Work and Pensions Secretary Amber Rudd, meanwhile, appealed for cross-party consensus because Brexit was "in danger of getting stuck".
Mrs May accused the former Labour prime minister of insulting the British people, and undermining Brexit negotiations, with calls for a new referendum. "I don't think the European Union could be remotely sure that if we don't find a way through this we wouldn't end up with no deal".
David Lidington, the Cabinet Office minister and May's de facto deputy, and Gavin Barwell, May's chief of staff, have discussed holding a second referendum with both Labour MPs and other Cabinet ministers, the Sunday Times reported.
In a pointed swipe at the Labour heavyweight, the Prime Minister said a second referendum would amount to Parliament abdicating responsibility.
While Mr Barwell took to Twitter to contradict the claims.
He added: "As it happens I believe a second referendum would lead to the same result as the first, and quite possibly by a larger margin".
The prime minister's spokeswoman said on Thursday: "The "meaningful vote" will not be brought to parliament before Christmas,"adding that it would come "as soon as possible in January".