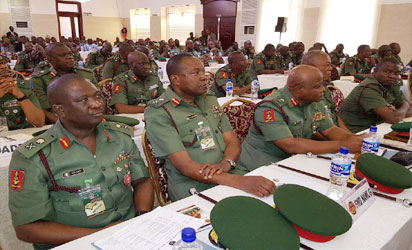 "As we speak we have taken control of Baga..."
The jihadists then retreated and the troops decided not to pursue them to avoid running into an ambush, a strategy Boko Haram often employs against the military, the officer said.
"Upon receipt of the information of the attack, the Air Task Force (ATF) of Operation LAFIYA DOLE immediately dispatched a NAF Intelligence Surveillance and Reconnaissance (ISR), platform along with two Mi-35M Helicopter Gunships to provide support for the troops to repel the attack".
On Thursday, Boko Haram fighters launched a massive attack on Baga, another town in Borno State and the headquarters of the Multinational Joint Task Force, comprising troops from Nigeria, Benin, Cameroon, Niger and Chad.
Therefore, no one could give accurate details of the encounter yet, as the troops have been reinforced and are busy with pursuit and mopping up operations against the terrorists.
A resident, who spoke to the BBC after he fled Baga, said a militant led the morning prayer on Thursday at his mosque in the town. However, Operation LAFIYA DOLE troops in conjunction with Borno State Government are working towards relocating the residents of Baga, to safer locations in view of the ongoing military operations in the area.
"In Baga, we are in Boko Haram hands because yesterday they were going around with their machine [guns] and motor [vehicles]", Baga resident Abdul Kami said on Saturday, describing the attack on the town. The weapons they stole during the Metele attack could be what they used to attack Baga.
Nasir Babagana also stated that since the military recaptured the town from Boko Haram terrorists in 2015, the city has been under the firm control of the military.
Hundreds of people have fled the fishing town of Baga after the militants overran it on Wednesday night, the residents said.
Goniri, which is about 80 kilometers away from Damaturu, the Yobe state capital, was once under the occupation of the Boko Haram insurgents.
However, the Army authorities reportedly had taken steps to prevent some of the attacks. But in February 2015, the Nigerian military drove out the insurgents from Baga, successfully reclaiming the town captured by the terrorists on January 3, 2015.
SUNDAY PUNCH learnt that the deployments were done to combat the Islamic State of West African faction of the Boko Haram fighters who attacked the Baga area as well as to locate scores of Nigerian soldiers said to have been displaced from the headquarters following the attacks. But with the recent spate of attacks in the northeast region, it appears there is a long way to victory for the army.