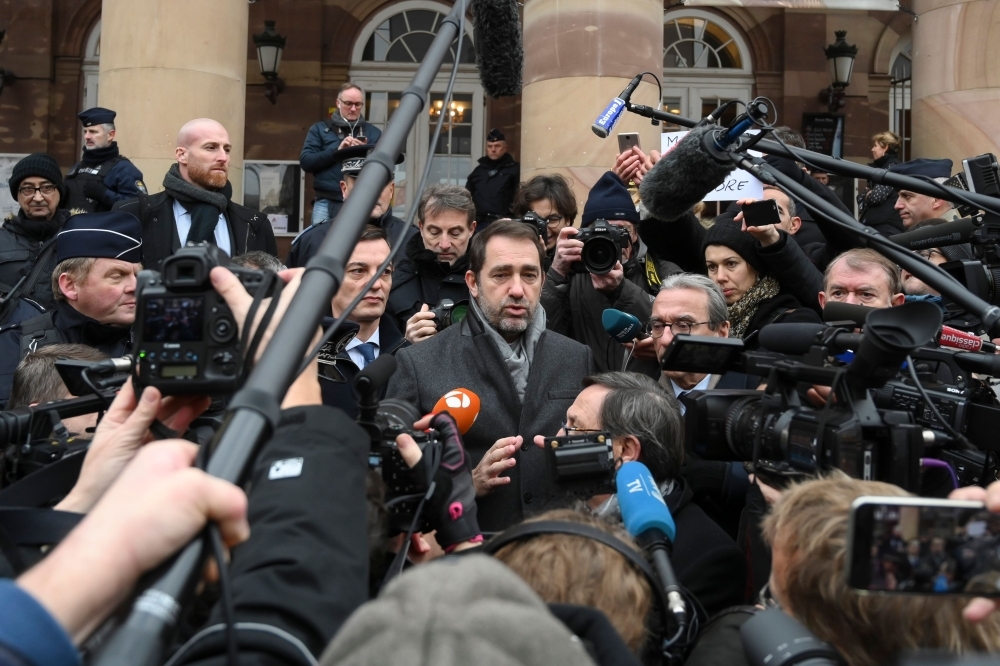 Witnesses said the suspect, a 29-year-old Strasbourg native identified as Cherif C., cried "Allahu Akbar" as he opened fire with a handgun and stabbed passers-by, France's anti-terror prosecutor Remy Heitz claimed Wednesday.
He was believed to have been injured after exchanging fire with soldiers during the attack, but managed to escape and had not been seen since getting out of a taxi in Neudorf.
In 2017, he was deported from Germany to France after the Interior Ministry in the German state of Baden-Wuerttemberg confirmed he had been convicted of break-ins and serious theft in 2016 and spent time in a German prison.
Cherif Chekatt was killed in the Neudorf/Meinau area of the city after a police operation was launched around 9pm Thursday local time about two kilometres from where he launched his attack on Tuesday.
Nunez told France-Inter that police went to his apartment in an outer neighborhood of Strasbourg on Tuesday morning.
Christmas markets throughout France are under surveillance after the attack, French Interior Minister Christophe Castaner said early Wednesday.
The head of the European Commission, the EU's executive body, Jean-Claude Juncker, tweeted: "My thoughts are with the victims of the Strasbourg shooting, which I condemn with the utmost firmness".
The police operation came as the French government urged "yellow vest" protesters not to hold another round of demonstrations this weekend, given the strain on the country's security forces.
Luxembourg Prime Minister Xavier Bettel told his country's parliament that the shooter was involved in a robbery there in 2012, without offering any more details.
French president Emanuel Macron was slammed by some for the government's failure to prevent the attack.
Hundreds of people gathered in Strasbourg's 500-year-old cathedral Thursday evening to mourn and seek comfort.
An intense manhunt is underway with 350 people - police, military troops and helicopter pilots - searching for the unidentified suspect.
German authorities were on the lookout for the fugitive on Wednesday "along the Rhine" river which serves as the border between France and Germany, a spokesman from the Baden-Wuerttemberg region said.
"We will also reinforce security at all Christmas markets to prevent copycat attacks", he said.
He was on a French watch list called a "Fiche S" surveillance file.
Chekatt is "a familiar composite portrait of today's jihadist", Anne Giudicelli, director of the consulting firm Terrorisc, told AFP. "He has ticked all the boxes of the profiles seen before".
In November 2015, some 130 people were killed in Paris in coordinated jihadist attacks on the Bataclan concert hall and other sites.
The suspect lived in a rundown housing estate a short drive from the Christmas market, which draws some two million people each year to its wooden chalets selling festive decorations, mulled wine and food.
Several MEPs were close to the market when the shooting started and have in holed up in hotels, restaurants or the legislature itself as police were looking for the suspect.