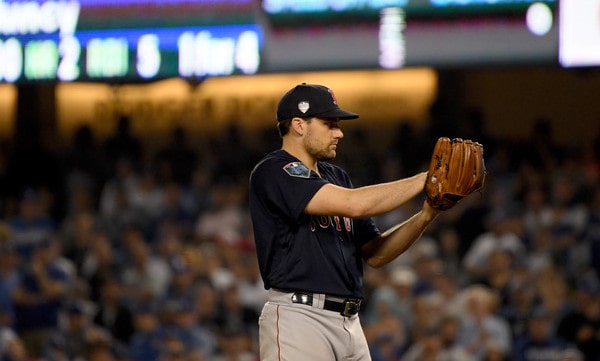 Talks between the Red Sox and free-agent righty Nathan Eovaldi are "intensifying", Robert Murray of The Athletic reports (via Twitter). While he did have a stretch in which he was inconsistent, it was his performance in the big games, particularly against the Yankees, that makes this re-signing a big one for Red Sox president of baseball operations Dave Dombrowksi. He became a free agent after the World Series.
Eovaldi, 28, was 6-7 with a 3.81 ERA in 22 games (21 starts) in 2018 but was 3-3 with a 3.33 ERA after being acquired by the Red Sox from Tampa Bay in late July. He owns a 10-5 record with a 3.70 career ERA in 26 appearances. The Red Sox are one of many teams who've been prominently linked to the right-hander, who starred for them following a midseason trade from the Rays.
It's believed that the Houston Astros and Yankees are among those also aggressively pursuing Eovaldi. Given the fact that Red Sox ace Chris Sale wasn't 100 percent, Eovaldi's performance as both a starter and bullpen arm was a major factor in the team winning their ninth World Series championship. Eovaldi's 111 innings represented a limited workload after returning from his second Tommy John surgery. Manager Alex Cora credited Eovaldi's effort with being one of the catalysts that helped Boston win its fourth World Series title in 15 years.
The Red Sox signed Eovaldi to a four-year, $68 million deal on Thursday, ensuring the postseason hero would remain with the club for the foreseeable future.
2018 was his first year in the playoffs. Steven Wright (2021), Rodriguez (2022), Brian Johnson (2025) and Hector Velazquez are all arbitration eligible for at least the next two seasons before hitting the open market.