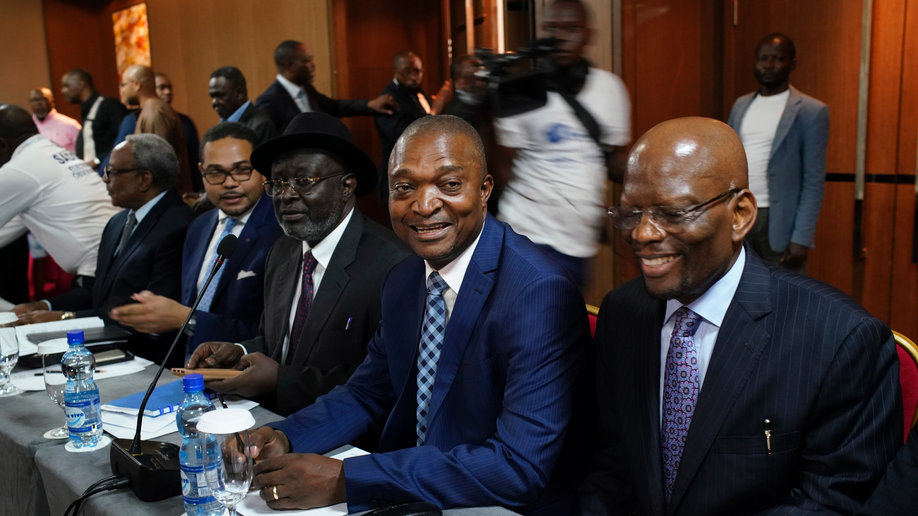 With tensions rising before the vote, Martin Fayulu and Felix Tshisekedi rejected a proposed pledge aimed at averting post-election violence, saying election officials had failed to make suggested changes to the text.
Violence also overshadowed Sunday's vote, with four people killed in eastern South Kivu, including a police officer and an election official, over accusations of voter fraud.
Two telecoms operators, Global and Vodacom, said the government had ordered them to cut access to the Internet on Monday - a move that opposition supporters said aimed at blocking social-media activism.
Polls have now closed in an election that is expected to bring the country's first peaceful transfer of power since independence in 1960.
President of the Democratic Republic of the Congo Joseph Kabila.
Improvised electoral agents count the ballots after a symbolic vote on 30 December 2018, at Kalinda Stadium in Beni, where voting was postponed for Democratic Republic of Congo's general elections. The first partial results are expected from the national electoral commission (CENI) on Tuesday. The official results will be announced on January 15, and the new president sworn in three days later.
In Kinshasa, one polling official anxious that the machines would run out of battery power.
The Catholic bishops conference (CENCO) said electronic voting machines, criticized by the opposition as vulnerable to fraud, had malfunctioned in at least 544 of 12,300 polling places it monitored around the country.
But determined to have a taste of much-delayed democracy in the troubled country, many turned out at makeshift polling stations for a staged vote.
This week's opinion poll showed Fayulu, a former Exxon Mobil manager, backed by influential heavyweights Jean-Pierre Bemba and Moise Katumbi, both barred by authorities from presidential runs in the lead with 44 percent.
Mr Kabila is backing his former interior minister Emmanuel Ramazani Shadary, who is the ruling's party's candidate.
In some areas in the east where the poll was cancelled, activists organised their own election, dubbed "citizen votes".
In some places, long queues built up because of a lack of electoral roll or because voters could not find their names on the lists, AFP reporters found.
The Catholic monitoring mission said that, as of early Monday, its observers had checked overall tallies of the vote in 4,161 polling stations.
An internal United Nations report said armed rebels in eastern Masisi attempted to intimidate people to vote for Mr Shadary, reports the BBC's Louise Dewast from the capital, Kinshasa.
A country nearly the size of continental western Europe which straddles central Africa, the DRC is rich in gold, uranium, copper, cobalt and other minerals.
In the last 22 years the country has twice been a battleground, drawing in armies from around central and southern Africa.
That legacy endures in the jungles of eastern DRC, where militias have carried out hundreds of killings.
The CENI announced last week that the elections would be postponed until March - two months after the scheduled presidential inauguration - in the northeastern Beni-Butembo region of North Kivu province, as well as in Yumbi in western Mai-Ndombe province.
The competing claims followed a disorderly election day on Sunday in which many Congolese were unable to vote due to an Ebola outbreak, conflict and logistical problems.
Despite this, the elections in the rest of the country have gone ahead.