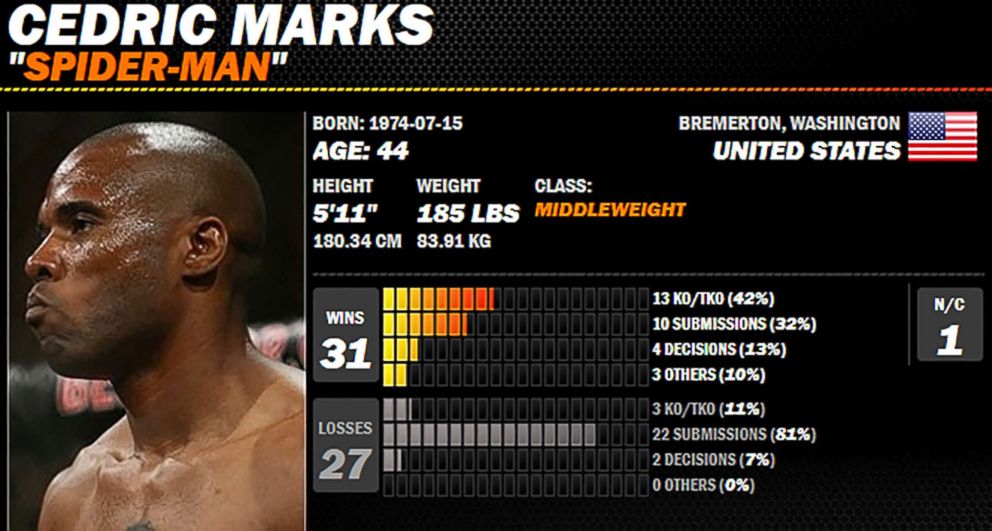 A multi-agency police manhunt is underway for an escaped prisoner, Cedric Joseph Marks.
Former mixed martial arts fighter Cedric Joseph Marks - named by authorities as a possible suspect in three homicides - escaped at a fast-food restaurant in Conroe Sunday morning during his transport from a MI jail to Bell County.
Marks is a professional MMA fighter and is considered extremely risky.
Cedric Marks escaped from the private prison transport van during a stop for food at a McDonald's in Conroe, Texas, Police Lieutenant Dorcy McGinnis said during a news conference in the city, which is about 65 kilometres north of Houston.
Marks, 44, was being transported from Grand Rapids, Michigan, to Bell County in Texas, according to the Montgomery County Sheriff's Office. Marks eluded the private transport agents near the 800 block of North Loop 336 West in Conroe. Marks was released from Kent County Jail on Thursday and picked up by U.S. Prisoner Transportation Services to be extradited to Texas, according to jail officials.
He met Jenna Scott and, after a rough two years, she asked a judge for protection saying, "Marks threatens and hurts me and told me he had gotten away with murder before", records show. The shirt was found by law enforcement after he fled. He has not officially been charged in the deaths.
He's suspected in three killings, including the deaths of his former girlfriend Jenna Scott and her friend Michael Swearingin, who were last seen January 4, according to the station.
TV station KCEN reported that Marks was arrested in MI last month on a charge alleging he broke into the Temple, Texas, home of an ex-girlfriend, Jenna Scott, on August 21. The alleged burglary followed his arrest for violation of a protective order.
April Pease, the mother of Marks' son, disappeared on March 17, 2009, the local newspaper reported.