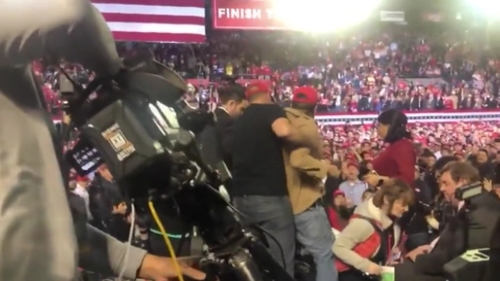 O'Donoghue added that the president had "repeatedly goaded" the crowd over supposed media bias during the rally prior to the incident, a "constant feature" of the rallies.
"It appeared to be a phenomenon that's unique to Donald Trump's rally", he said.
On Twitter, BBC Americas bureau chief Paul Danahar condemned the attack on Skeans, warning that the aggressive shoving of a cameraman could be a preview of far more risky assaults at Trump rallies if the president doesn't loudly and unequivocally denounce the violence. "No matter what we do they figure out a way to make it bad", he said to an angrier round of boos.
At the same time, El Paso District Attorney Jaime Esparza announced his office isn't planning on pressing charges against the man who attacked cameraman Ron Skeans.
He said the man nearly knocked him over twice before the assailant was wrestled away by another member of the media.
In the tweeted footage, a man wearing a red MAGA cap is pulled away from the cameraman by a man in a black shirt. POTUS continued on with the speech after a shaken Skeans was able to respond with his own thumbs up. Some in the crowd could be heard chanting: "Let him go".
The BBC's Ron Skeans was working in the area of a raised camera platform at Trump's campaign event when, he says, a "very hard shove" came out of nowhere. "Wow. Look at all the press there".
O'Donoghue told BBC Radio 4's Today programme: "It was an incredibly violent attack". Trump has referred to the media as "the enemy of the people" while also saying that the coverage of him and his administration has been "fake news". Washington News Editor Eleanor Montague tweeted first-person footage of the attack on her cameraman, Ron Skeans.
Skeans is listed as a member of the White House News Photographers Association.
At the time, Trump was touting recent economic numbers to a roaring crowd in the El Paso County Coliseum. According to the magazine, the El Paso police department is was "still gathering" information regarding the incident.
Trump in 2016 regularly encouraged his supporters to commit acts of violence against protesters, and at one point even encouraged fans to "knock the crap out of" hecklers while pledging to support their legal bills.