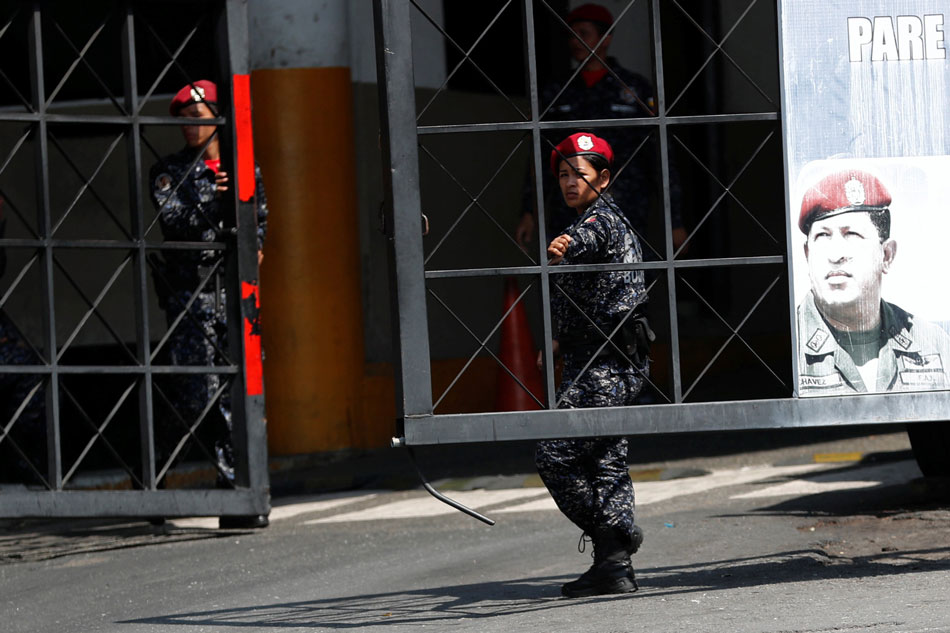 Opposition leader Juan Guaido says the Venezuelan government is weak and doesn't "dare" to detain him.
U.S. Secretary of State Mike Pompeo called on Twitter for Roberto Marrero's immediate release and said "we will hold accountable those involved".
The US has warned Nicolas Maduro's government against touching the opposition leader or his inner circle, threatening unspecified consequences. The Lima Group regional bloc also denounced Marrero's arrest and said Maduro was responsible for his safety.
Venezuelan opposition leader Juan Guaido said on Thursday intelligence agents had detained his chief of staff during a pre-dawn raid, putting to the test repeated US warnings that President Nicolas Maduro should not go after his opponents.
Interior Minister Nestor Reverol accused the aide, Roberto Marrero, a 49-year-old lawyer who serves as Guaido's chief of staff, of leading a "terrorist cell" bent on attacking the government's leadership with the help of Colombian and Central American as well as "acts of sabotage on public services to create chaos". Deputy Assistant Secretary of State for Western Hemisphere Affairs Carrie Filipetti said that the sanctions were not meant to harm the Venezuelan people but instead an attempt to instigate a democratic transition in the crisis-stricken country.
US President Donald Trump has said repeatedly he was considering "all options" in his drive to remove President Maduro from power and see Juan Guaido take charge.
With Washington already having imposed extensive sanctions on Caracas, the humanitarian and political costs of further blanket measures could be high, with millions of Venezuelans already suffering shortages of food and medicine.
Sebin officials also entered the home of opposition lawmaker Sergio Vergara, who lives in the same Caracas neighborhood, according to the opposition. Vergara said he was woken up by heavy banging at his door and agents pointed weapons at him.
"We don't know where he is".
A police source had told RIA Novosti that Marrero was one of two of Guaido's aides detained that day, and that one of them was found to have rifles and a grenade in their possession.
"This new outrage gives us the strength to move forward", Vergara said, pledging to continue to push for Maduro's ouster.
The United Nations human rights office tweeted its concern and urged the government to respect due process.
United Nations human rights chief Michelle Bachelet said on Wednesday that Venezuelan security forces, backed by pro-government militias, had quashed peaceful protests with an excessive use of force, killings and torture.
Most Western countries have backed Guaido, while Maduro has denounced him as a US puppet who is seeking to foment a coup. He later entered the country via Venezuela's principal airport without being detained by immigration officials.
Venezuelan prosecutors say Guaido is under investigation for alleged links to violence as well as the nation's worst power outages.