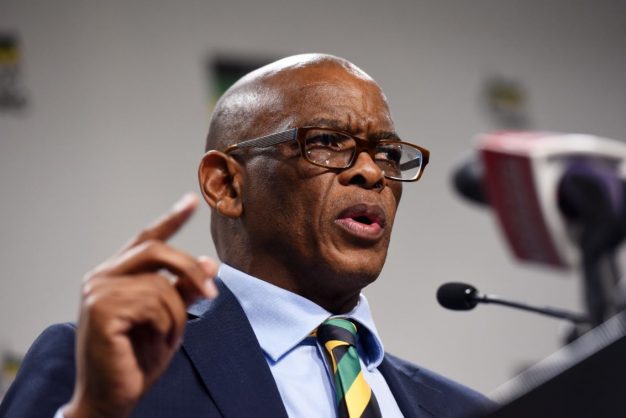 "We will have cholera, we will have malaria".
The Mozambican minister said some 1,500 people were in need of immediate rescue from rooftops and trees.
The International Federation of the Red Cross and Red Crescent Societies (IFRC) said on Friday that cases of cholera have been reported in Beira, a port city of 500,000 people.
Ongoing rainfall and damage to major roads has made reaching those who were in the path of the cyclone ten days ago challenging.
Speaking alongside Correia at a briefing in Beira, on the coast 1,000 kilometers (620 miles) north of Maputo, Sebastian Rhodes Stampa of the UN Office for the Coordination of Humanitarian Affairs warned that the outbreak of disease in inaccessible areas could be "really problematic".
Throughout the region, emergency air efforts focus on spotting stranded people and communities in the hope of dropping aid or plucking those in dire need to safety.
Department for International Development handout photo of United Kingdom aid waiting to be loaded onto a plane at Doncaster-Sheffield airport for Maputo in Mozambique to help those caught up in the devastation caused by Cyclone Idai in south-east Africa.
Delivering relief to numerous survivors remains a struggle. "We should not be frightened when cholera issues arise", added Correia, describing efforts to control the emerging humanitarian crisis. Malaria, we know how it arises. Assistance is also being sent to Zimbabwe and Malawi, two other countries hit by the cyclone, it said. "We are also concerned about children who were orphaned by the cyclone or became separated from their parents in the chaos that followed", Fore said.
"Houses are completely destroyed, and some people don't have money to rebuild their businesses - and many businesses are going to fail", he told AFP. Hundreds are still missing in Mozambique and Zimbabwe. While nearly 90,000 people have been saved, according to the National Institute of Disaster Management, at least 600,000 people have been displaced, the WFP said.
Those living in affected areas of Mozambique began to trickle back to church over the weekend. Father Pedro held a mass at the Ponta Gea Catholic Cathedral in Beira on Saturday night.
Thousands of people had lost their lives, and the destruction of homes and overall infrastructure and crops was devastating and would continue to negatively impact on the lives of millions of people for a very long time. "The city remains without electricity, while telephone and internet communication is intermittent". "This will have serious consequences on children's education, access to health services, and mental well-being", Fore said.