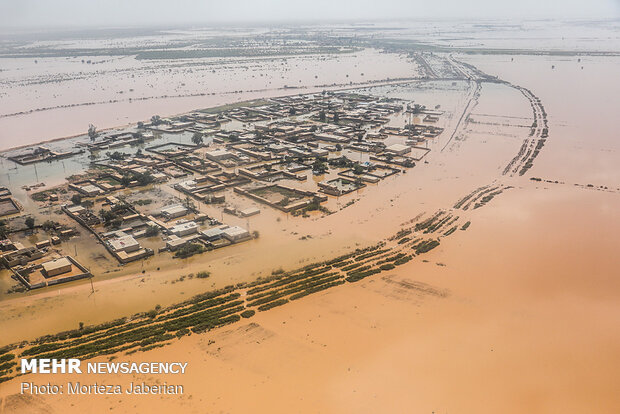 According to IRNA, the state-run news agency of Iran, 70 people have lost their lives in the recent floods that hit northern, western and southwestern Iran.
As waters continue to submerge villages, the government said it had deployed more mobile medical units to the southern provinces.
Iraq's border crossing authority announced Saturday it was closing one of its crossings with Iran because of the flooding.
The governor said the discharge of dam water and reservoirs taking place as part of the emergency procedures would lead to a higher level of flood.
Record spring rainfall in Iran in the past two weeks caused serious flooding in many areas, mainly the provinces of Golestan, Lorestan, Khuzestan, Fars and Ilam, forcing thousands to leave their homes.
Heavy showers are also expected in the northeastern provinces, including the city of Mashhad.
In addition to the heavy rains, widespread disregard for safety regulations in building and road construction near rivers has resulted in heavy damage from the floods.
Interior Minister Abdolreza Rahmani Fazli told state TV that some 400,000 people are at risk out of the province's population of five million. Iranian Foreign Minister Javad Zarif has described those USA attempts as "economic terrorism".
But Iranian Foreign Minister Javad Zarif, in a statement posted Thursday on Twitter, said the USA sanctions are "economic terrorism" and US officials, including Secretary of State Mike Pompeo, have "tried to obstruct efforts by expatriate Iranians to make donations to the accounts of the Iranian Red Crescent".
"Blocked equipment includes relief choppers: This isn't just economic warfare; it's economic TERRORISM", he said on Twitter. "The United States stands ready to assist and contribute to the International Federation of Red Cross and Red Crescent Societies, which would then direct the money through the Iranian Red Crescent for relief".