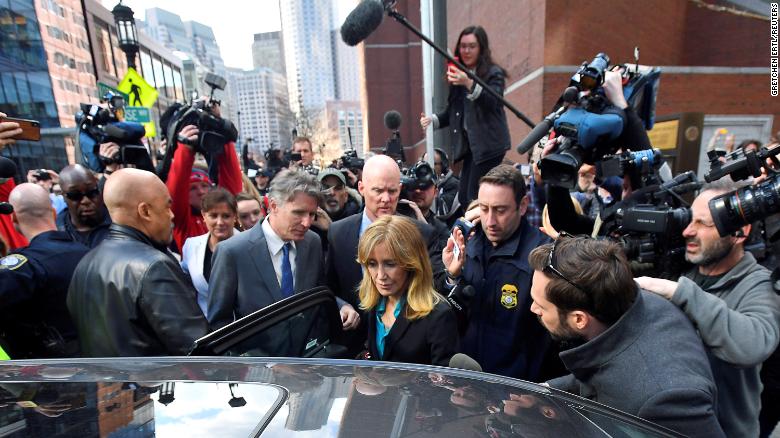 Authorities say the scheme was overseen by California college admissions consultant William "Rick" Singer, who has pleaded guilty to facilitating the cheating scam and bribing coaches to present the parents' children as fake athletic recruits.
Loughlin and Giannulli are not among those who've agreed to plead guilty and haven't publicly addressed the allegations.
Huffman will plead guilty to a charge of conspiracy to commit mail fraud and honest services mail fraud, according to court documents.
Shortly after the announcement, Huffman released a statement saying she is "ashamed of the pain" she caused her family.
Facing a potential sentence of up to five-years behind bars out of the yearlong "Operation Varsity Blues" by federal prosecutors and the FBI, Huffman "made a purported charitable contribution of $15,000 to participate in the college entrance exam cheating scheme on behalf of her eldest daughter", according to the lengthy March 6 indictment. A clearly upset Macy was in the public gallery for Huffman's March 12 arraignment, but did not appear in Boston for the preliminary hearing on April 4.
FILE - In this April 3, 2019 file photo, actress Felicity Huffman arrives at federal court in Boston to face charges in a nationwide college admissions bribery scandal.
Twelve other parents have agreed to plead guilty, including California marketing executive Jane Buckingham and Agustin Huneeus, who owned a California wine company.
Huffman was among 50 people charged in what authorities have described as the biggest college admissions scam ever prosecuted by the justice department. Huffman was also able to obtain extra time for her daughter to take the test. Singer admitted to hiring a proctor to correct answers on students' exams.
William H Macy and Felicity Huffman at the Academy Awards (Ian West/PA) Felicity Huffman - who has been charged - and her husband William H Macy.
My daughter knew absolutely nothing about my actions, and in my misguided and profoundly wrong way, I have betrayed her.
In her statement, Huffman said her older daughter was unaware that her score had been altered. This transgression toward her and the public I will carry for the rest of my life. She said her desire to help her daughter was "no excuse to break the law".
Lori Loughlin (centre) and daughters Olivia Jade Gianulli (left) and Isabella Gianulli (right).
Fellow actress Lori Loughlin, who played Aunt Becky on the sitcom "Full House", and her fashion designer husband, Mossimo Giannulli, are charged with paying $500,000 in bribes to get their two daughters admitted to the University of Southern California as crew recruits, even though neither participated in the sport.
Bill McGlashan, a founding partner of TPG Growth, was forced out of the firm.
Ms Loughlin is accused along with her husband of paying almost $500,000 in bribes to get their two daughters admitted to the University of Southern California.