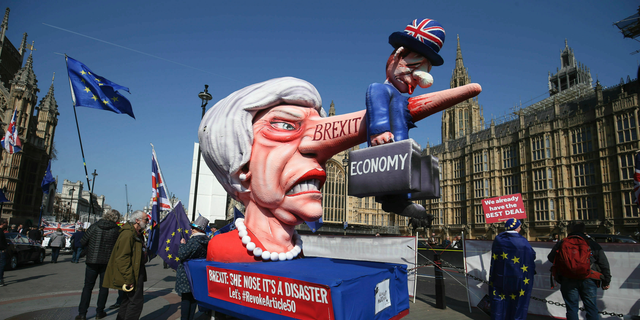 Britain's prime minister Theresa May is on a whistlestop tour of France and Germany today, in a bid to gain support from European leaders to delay Brexit again.
While the Prime Minister appears to prefer a series of short extensions, top Eurocrat Tusk appears to reject this approach, insisting on one long extension instead. The continued uncertainty would also be bad for our businesses and citizens.
It compels the government to ask the European Union to delay Brexit, which is now due to take place Friday.
Meanwhile, talks between the Government and Labour aimed at finding a cross-party consensus are due to resume on Tuesday, following technical discussions between officials on Monday.
However, the final decision on an extension lies with the EU.
European leaders will demand the United Kingdom abide by principles of "sincere co-operation" and not disrupt the functioning of EU institutions in return for a long extension of its Brexit negotiations, according to draft council conclusions seen by the Financial Times.
Number 10 said ministers and their shadow counterparts will continue cross-party talks later, as they try to break the Brexit deadlock.
Barnier said he had no information about such a plan, and a German government spokesman said the report was "without any foundation".
It could be cut short if both the European Union and Britain ratify the Brexit deal before it runs its course.
But BBC political editor Laura Kuenssberg said there was "deep concern" on the Labour side that any legal promise could be undone by further legislation.
In a letter to the members of the other 27 member states, EU Council President Donald Tusk suggested they consider May's June 30 delay request at their emergency meeting on Wednesday so as to better prepare against the chance of a no-deal Brexit.
The MPs met Mrs May in Downing Street on Monday and it is understood they were more open to the idea of a customs arrangement, which would allow the United Kingdom to do its own trade deals.
Labour leader Jeremy Corbyn said the talks were serious, but the government was sticking to its red lines.
The leaders also discussed the ongoing situations in Yemen and Libya.
Mrs May and Mr Macron also discussed next month's European Parliamentary elections, with the prime minister saying the government was "working very hard" to avoid the need for the United Kingdom to take part as it is supposed to if it is still a member of the EU on 23 May.
He acknowledged, however, that there were likely to be further attempts to put down amendments requiring a confirmatory public vote when any agreement was put to Parliament for ratification.