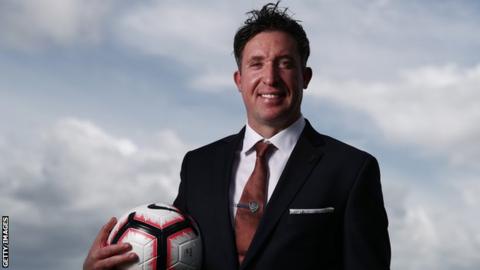 Robbie Fowler has joined Brisbane Roar as head coach.
Fowler, 44, had two stints in the league as a player, for now-defunct North Queensland in 2010 and Perth in 2011.
With just one match remaining, the Roar are second last, having won just four of 26 matches this season.
"You could have Jurgen Klopp here, you could have Pep Guardiola, it doesn't necessarily mean they are going to be great managing Brisbane".
"At this point in time, I have to take care of my injury".
But unlike other foreign managers to have come to the A-League, Fowler should know what he's getting himself into.
"There's not going to be any stone left unturned".
"As far as I'm concerned, I'm a good, reliable, safe option and I'm going to do everything needed to do it the right way". There's going to be plenty of hours on the training pitch to bring the club and the team up to speed.
"That will give me time to look at all opportunities to then make a clear decision to continue playing or transition perhaps into coaching", he said today.
It is understood Fowler was selected from a field of about 100 candidates for the full-time position, which was vacated by ex-Socceroos striker John Aloisi when he resigned in late December.
The Sydney Morning Herald understands Fowler will be presented to the media on Tuesday ahead of Brisbane's final game of the A-League campaign at home to Adelaide United on Anzac Day.
The Roar said they had undertaken an "extensive, detailed and robust appointment process" before settling on Fowler.
"Brisbane Roar Football Club is confident that we have appointed an outstanding person and someone who is hungry to succeed", he said.
Fowler, who also played for Manchester City, Leeds, Cardiff and Blackburn, has recently been a coach at Liverpool's Academy and also worked as an ambassador for the Reds.