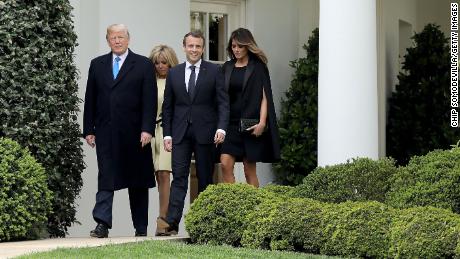 President Donald Trump had some advice for America's first President, befuddled by George Washington's decision not to name Mount Vernon after himself.
According to a report by Politico released Wednesday, Mount Vernon president and CEO Doug Bradburn could only describe the visit as "truly freaky".
"If he was smart, he would've put his name on it", Trump reportedly said.
He also reportedly questioned whether or not Washington was "really rich", a question-in Trump's experience, at least-frequently asked of presidents.
Lucky for us all, the president continued to go on a tangent about Washington on his trip the home of our first president, saying that Washington should have put his name on it, because "You've got to put your name on stuff or no one remembers you".
Bradburn reminded Trump that Washington had succeeded in getting the nation's capital named after him.
Bradburn had a hard time keeping Trump's interest throughout the tour and tried to hold his attention by pointing out that Washington was a wealthy real estate titan just like Trump.
The report claims Trump was allegedly disinterested in the history of the first president during the 45-minute tour and described it to associates as "truly freaky".
When the guide spoke about Washington's wealth and real estate dealings, "that is what Trump was really the most excited about", a person familiar with the tour told Politico. He concluded that he could've built the place better and for cheaper.
Trump did find something in the house he liked - the bed Washington passed away in 1799.
When contacted for comment by Politico, a Mount Vernon spokesperson said, "Mount Vernon has a policy of not providing details about high profile visits outside of the official statements provided by the organization".