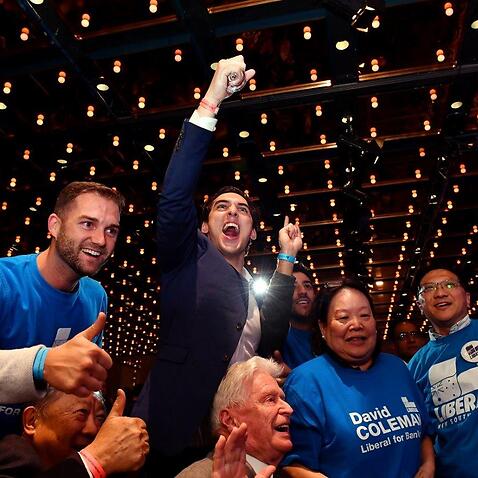 Respected Australian Broadcasting Corporation election analyst Antony Green said the Morrison's coalition will retain its lead in at least one more seat, allowing it to select a parliamentary speaker and still retain a majority. Slightly more than three-fourths of the roughly 17 million votes have been counted.
Speaking to ABC TV just moments after Scott Morrison's victory speech on Saturday, Australian comedian and national icon Magda Szubanski described this Labor policy as "franking-stein's monster" due to its complexity and the vicious nature of the debate it created.
Some onlookers, such as The Motley Fool's chief investment officer Scott Phillips, have drawn parallels between the election and the 2016 race won by Donald Trump in the United States.
Trump and Israeli Prime Minister Benjamin Netanyahu were among the first world leaders to congratulate Morrison.
Trump tweeted "Congratulations to Scott on a GREAT WIN"!
The Prime Minister is set to announce his new cabinet over the coming weeks.
"We have an obligation as Labor Party people to keep fighting for a fairer Australia, for a strong economy and a fair society", Plibersek said. Meanwhile, Liberal MP Gladys Liu will be predicted as the victor in the eastern suburbs Melbourne seat of Chisolm, beating off challenger Jennifer Yang despite a 2.9% swing against the government.
The coalition will not hold a majority in the Senate, the upper house, meaning it will need the support of independents and minor parties to pass legislation. The Channel 9 network called 73 seats to the coalition, 61 to Labor, with 17 undecided. Its leader, Bill Shorten said he would step down. Four such changes had been brought about by lawmakers voting to dump their party's leader, two each from the coalition and the center-left Labor Party.
Labor campaigned on a platform of reducing inequality through tax reform, higher wages and better public infrastructure but Shorten, a former union leader, was never seen as a popular leader.