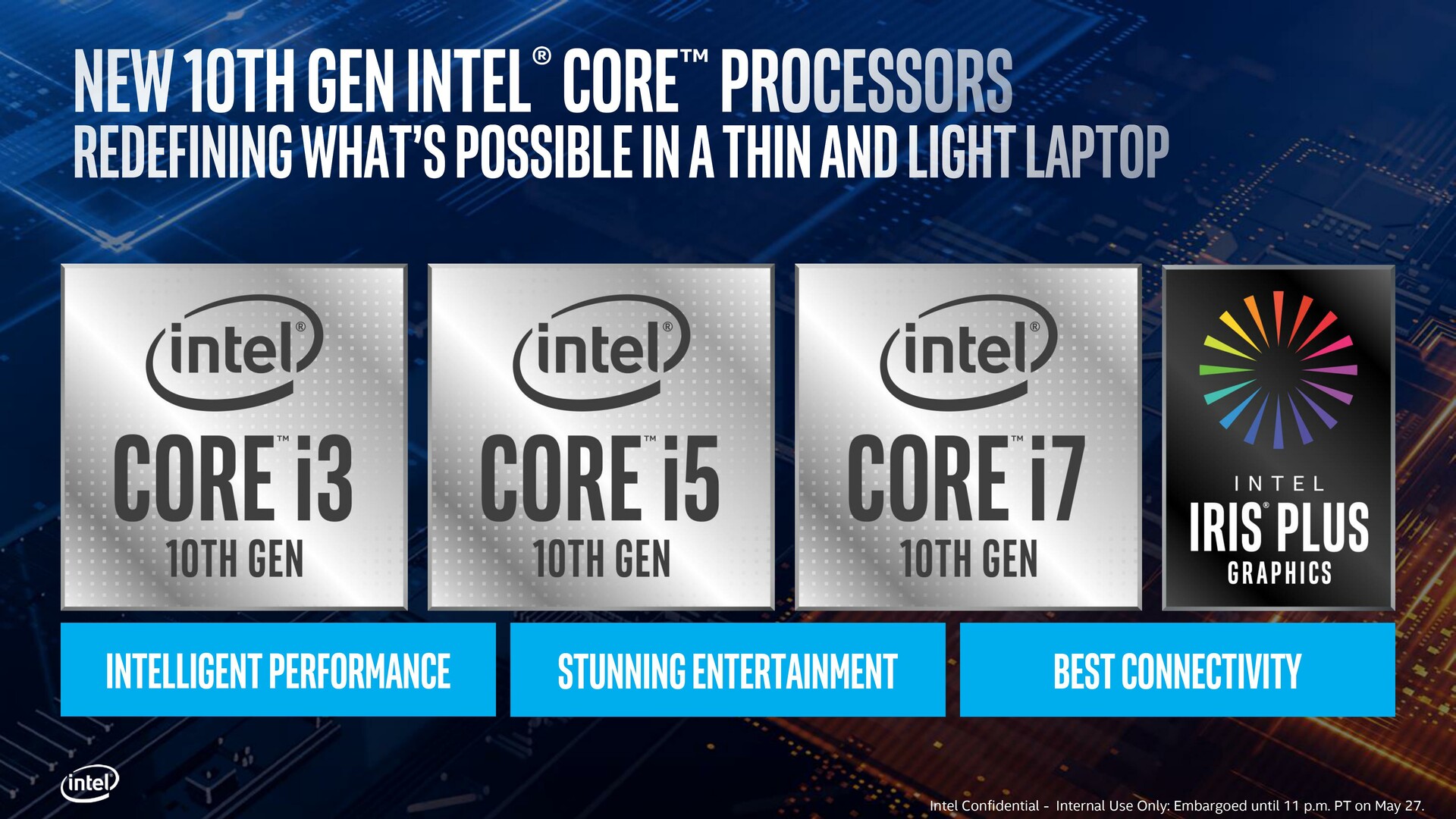 The long-awaited 10th Gen Core processors are Intel's first models with 10nm fabrication. These new processors are coming to laptops and 2-in-1 devices first, with more form factors expected to arrive later.
USA tech giant Intel Corp. said Tuesday it has released a new generation of processors that bring broad-scale artificial intelligence to the PC for the first time.
Intel joined the biggest PC manufacturers at Computex in Taipei this week, and the company just took the wraps off its 10th gen Core processors code-named "Ice Lake".
Intel has not disclosed the details about individual chips, but it is evident from the provided information that Ice Lake processors will be offered as Core i3, i5, and i7 chips.
Ice Lake's Gen11 graphics has its own support for AI with up to 1 teraflop of vector compute "for heavy duty inference workloads", says Intel. In addition to the subcomponents you see highlighted in the diagram there is; integrated Wi-Fi 6, fully-integrated voltage regulation for CPU and PCH, a powerful quad-core audio DSP which enables lW power wake-on-voice, and a good I/O base spec - up to six USB 3.1 (or 10 USB 2) ports, x16 PCIe 3.0, x3 Sata ports, and an eMMC 5.1 interface. This CPU will be powering Intel's upcoming mobile CPU platform.
Intel said its highly integrated 10th Gen Intel Core processors give OEM partners the freedom to innovate on design and aesthetic by reducing the silicon footprint while still delivering the latest and greatest standards and world-class performance.
One of the most exciting elements of Ice Lake is Intel's new 11th generation graphic architecture-Iris Plus. We expect to hear a lot more about AMD Navi and the RX 5000-series graphics cards during the show, but we should also be hearing quite a bit more from AMD on the technical details of its Ryzen 3000 chips at the event, too. Intel's goal for the new metrics is to work with the ecosystem to drive innovation that noticeably impacts people's experiences on the laptop and evolve those capabilities year over year. Intel says the next release of 30 designs will come out towards the end of the year. Ice Lake is Intel's first volume-shipped 10nm chip. Designed with gamers in mind, the new special edition 9th Gen Intel Core i9-9900KS delivers 5GHz all-core turbo, and Intel Performance Maximizer. The toolkit also includes Intel Dynamic Tuning Technology, Intel Extreme Tuning Utility and Intel Graphics Command Center.