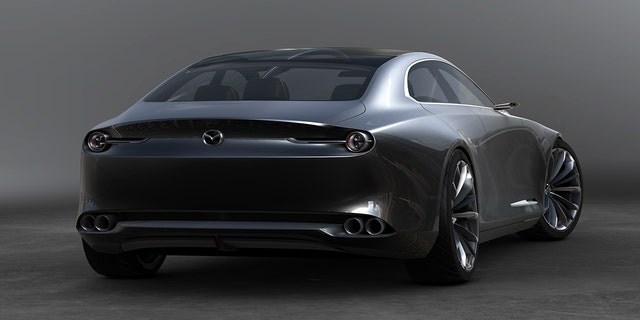 Mazda is in the midst of trying to reinvent itself as a premium brand, and plans revealed in a leaked investor relations document suggest that the diminutive automaker plans to do battle with the segment's German stalwarts on their home turf with at least one rear-wheel-drive, inline-six-powered model. Nestled within its full-year financial results presentation is a brief mention of plans for a large architecture with inline-six compression ignition petrol and diesel engines, earmarked Skyactiv-X and second-generation Skyactiv-D, respectively, in addition to the evolution of its Kodo design language and upgrades to its small architecture Skyactiv powertrains.
Jalopnik first found the details, having - probably painfully - scouring through the 56-page document.
It's interesting to see Mazda moving to bigger engines and a longitudinal architecture, but not unprecedented. In fact, the largest-capacity passenger vehicle engine it offers in Australia is the 3.2-litre turbo-diesel five-cylinder engine, which is borrowed from Ford for the Mazda BT-50. Mazda now joins European marques such as Mercedes, BMW, and Jaguar Land Rover who are still currently developing a straight-six motor for their respective vehicles. The rotating mass of each piston in line makes for a more harmonious operation as opposed to a V-layout, which sends pistons outward and firing away from each other. Power and torque outputs are usually the same. From what we know so far, it sounds like Mazda is getting way more serious about its ambitions to become a luxury brand.
Mazda will also incorporate mild and plug-in hybrid electrification for these new engines.