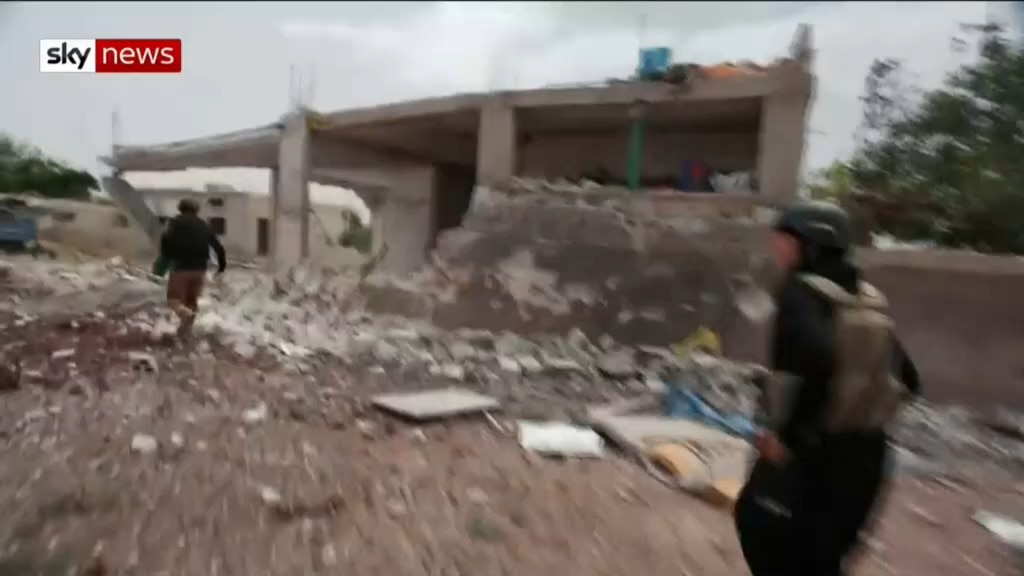 The Sky employees were working alongside United States journalist Bilal Abdul Kareem, who was struck by shrapnel from a Syrian government tank shell, the outlet said on Thursday.
Sky News journalist Alex Crawford and her camera crew have been targeted by Syrian forces while covering the conflict in the Idlib province, according to dramatic video of the journalists being shot at.
The crew said military drones were first used to pinpoint their location.
In the footage, a massive explosion is heard, before Sky producer Martin Vowles shouts "go, go, go" as the group flee.
Ms Crawford said one of the crew was wearing a flak jacket with clear press markings and the other was carrying a "clearly marked green medical trauma pack".
"In this connection, we would like to ask the Western representatives who are concerned so much about the humanitarian aspects of the situation in Idlib - why, for instance, don't you demand special UNSC meetings on the situation in Syria's northeast?"
The regime has a history of targeting both local and foreign journalists reporting from rebel-held areas.
"Even when we withdrew to the nearby town, Khan Shaykhun, some 10km away, the shelling followed us there and continued".
Crawford wrote in an article for Sky News that she and her team of five journalists had been filming a burning armoured vehicle in the town of al-Habit when a bullet hit the machine.
"We regret to say that these insinuations on the alleged use of chemical weapons by Damascus against their own people have become an integral part of North Atlantic Treaty Organisation policy in Syria and in the Middle East", the spokeswoman told a news briefing.
The counterattack came after the militants attempted to target the army posts in the areas in violation of the de-escalation zone agreement reached following a meeting between Turkish President Recep Tayyip Erdogan and his Russian counterpart, Vladimir Putin, in the Black Sea resort city of Sochi in September. Crawford said the demilitarized zone had been breached multiple times.
"We saw how the ceasefire brokered by Russian Federation and Turkey previous year in Sochi - which declared a nine-mile demilitarised zone between rebel and regime lines - has been spectacularly breached", she said.