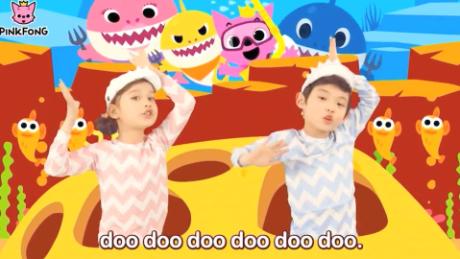 YouTube sensation "Baby Shark" (an earworm curse to parents everywhere), is being developed into an animated series for Nickelodeon, a rep for the network told CNN.
It's the news parents never wanted but, let's be honest, was inevitable for the viral music craze, which has almost 3 billion YouTube views. The song landed a 20-week streak on the Billboard Hot 100 list and naturally spawned its own video challenge, #BabySharkChallenge, generating over 700,000 cover videos.
If you haven't heard of "Baby Shark", chances are you probably don't spend a lot of time with children, because as nearly anyone with young ones can attest, the song is everywhere now. With music, characters, story and dance all combined together, Baby Shark took the world by storm, amassing 2.9 billion YouTube views and becoming the 9th most watched video in the platform's history.
" Baby Shark is a multiplatform phenomenon, and appetite for more content and products is strong around the world", said Pam Kaufman, President, Viacom Nickelodeon Consumer Products.
Nickelodeon promises the show will bring "Baby Shark" to new heights and further explore the world of the song.
There aren't too many details - premiere date and episode count included - on what this next evolution of Baby Shark will look like, but SmartStudy, the company behind Pinkfong, will be involved.
Perhaps parents can breathe a sign of relief for the time being - but you've been warned.