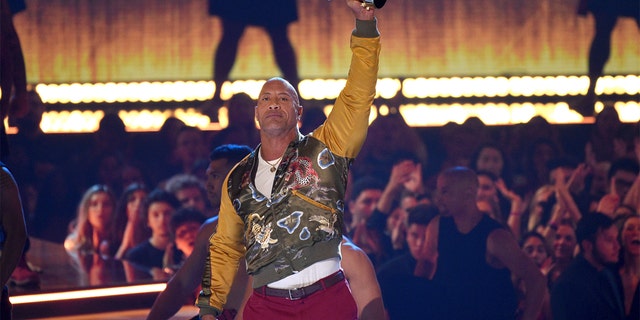 But it was Ginsburg who took home the prize that distinguishes her as the most valiant person profiled in a movie or TV show. Ginsburg, who likely has far more important things to attend to, was, unsurprisingly, not present to collect her award, which resembles a golden bucket of popcorn.
Inclusivity and celebration were the themes of the night. Levi reminded everyone to nurture the kid in themselves and keep following their dreams into adulthood. Lizzo and Bazzi kept the crowd on its feet during their lively musical performances of Juice and Paradise, respectively.
"Kiss who you want to kiss". Johnson was miserable doing that, though, so he made a choice that he wasn't going to conform to Hollywood, "Hollywood was going to conform to me", the Jumanji: Welcome to the Jungle star said (that's how we get beefcake Chris Pratt).
As it's from one of the greatest films of the '90s (fight me), and one of the most recognisable final performance scenes of the time, fans lost their damn minds over the performance on Twitter.
Daniel Levy shared a similar sentiment after winning the best comedic performance award for Schitt's Creek. You can be creative and daring while still being fashion-forward - a memo Handmaid's Tale star Elisabeth Moss took to heart when she arrived to the 2019 show in Los Angeles on Saturday, June 15, 2019 wearing a black mini-dress adorned with a magnificent silver dragon snaking down the side of her body.
Dwayne Johnson took home the "Generation Award", and Jada Pinkett Smith won the annual Trailblazer Award. The show features gender-neutral categories.
Sandra Bullock touched the audience during her speech for most frightened performance for Bird Box.
The Oscar victor said she made the film for her kids after they asked when she would make a movie for them. The Oscar victor said she was happy her son could see her accept her award in a room with "real-life superheroes" like Wonder Woman and Captain Marvel.
"Surviving R. Kelly", in which seven women spoke on camera about what they said was years of sexual and emotional abuse by the "I Believe I Can Fly" singer, won best documentary.