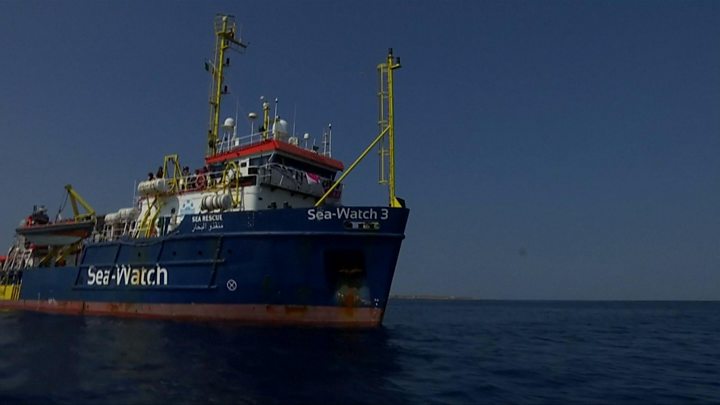 She has been arrested for "resisting a war ship", a charge which, according to media reports, carries a penalty of up to 10 years in prison.
Italian Deputy Premier and Interior Minister, Matteo Salvini, attends a RAI state TV program in Rome, Wednesday, June 26, 2019.
But ultimately, the gutsy captain of German humanitarian ship Sea-Watch 3 got her way: 40 migrants safely set foot in Italy, more than two weeks after her vessel's crew plucked them from an unseaworthy boat launched by Libya-based human traffickers.
As Mr Salvini has done since Italy's populist government took office a year ago, he had insisted that no migrants disembark in Italy from a humanitarian rescue ship until other European Union countries pledge to accept them while their asylum requests are processed.
The 31-year-old German was filmed being led away by police in handcuffs.
Italy's rightwing government introduced rules on 14 June that closed Italian ports to rescue ships and threatened them with fines of up to €50,000 (£44,800) and an impounding of the vessel.
Rackete's explicit determination to bring the remaining 40 to Italian soil in defiance of Salvini put her on the global stage in a very personal way.
The Finnish working group said the decision was a one-off deal and that any migrants from the ship arriving in Finland would be subject to the same procedures as other asylum seekers entering the country.
The humanitarian rescue operation ended dramatically and violently when Rackete decided she could no longer wait for permission to dock given the odyssey of the migrants aboard. No one was injured but the motorboat's side was damaged.
Salvini has said the migrants can only disembark if they head straight to the Netherlands, where the Sea-Watch 3 is registered, or to Germany.
She was arrested after striking the patrol boat and docking at the island. "For 36 hours she had declared a state of necessity, which was ignored by Italian authorities". Italian authorities had already taken in 13 of them for health reasons. She complied. Neugebauer said that ship is now adrift between 1 and 3 nautical miles off shore.
"I am sure Italian courts will find out the life and the safety of people rescued is more important", Rackete said.
Sea-Watch defended the captain's actions, as did Italian opposition lawmakers who had gone aboard a few days earlier in a show of solidarity to the migrants. "This is why I hope that Italy, in this particular incident, will contribute to a swift resolution for the persons on board". She told Italy's La Repubblica daily that her first experiences overseas in South America made her realise how privileged she was and motivated her to give something back.
Sea-Watch 3 captain Carola Rackete has defied orders from port authorities, first not to enter Italian waters and second in her attempted approach to the port of Lampedusa, Italy's southernmost island.
The captain of an NGO rescue ship carrying 42 people has been arrested for breaking a naval blockade by an Italian military vessel that was trying to stop the vessel from disembarking in the Sicilian port of Lampedusa.