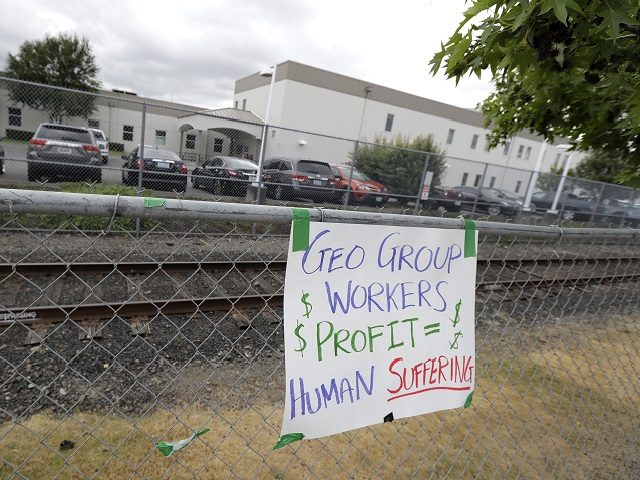 A man armed with a rifle has thrown incendiary devices at an immigration jail in Washington state, and was then found dead after police opened fire, authorities say.
A 69-year-old man was shot and killed by four police officers when attacking a Tacoma immigration jail in the US northwest state of Washington early Saturday morning, the authorities said.
The Northwest Detention Center, which is a U.S. Department of Homeland Security facility for migrants pending deportation proceedings, has held immigration-seeking parents separated from their children under Trump's "zero tolerance" policy.
Cool said the incident took place several hours after a peaceful rally protesting the Trump administration's detention of illegal immigrants outside the facility. She said the officers weren't wearing body cameras, but the area is covered by surveillance cameras from the detention center.
The man allegedly set a vehicle on fire and attempted to ignite a propane tank and set buildings on fire.
Police fired on the man in a parking lot across from the facility, striking him fatally.
She says that she and other friends of Van Spronsen got letters in the mail "just saying goodbye". Cool said she did not know whether the man killed fired the rifle he was carrying.
Officers replied to the incident around 4 a.m. and referred to as out to the man sooner than shots were fired.
Detectives and forensics were processing the scene Saturday morning; the man's name has not been released.
He pleaded guilty to obstructing a law enforcement officer, court records show.
Four Tacoma police officers have been placed on paid administrative leave.
Investigators have yet to disclose any information regarding the motives or background of the man involved.
The shooting comes the day before Sunday's planned national raid by ICE targeting hundreds of immigrants who have received deportation orders. Nearby Seattle, however, is not one of those cities on the list.
"They were not told that visits would not happen, were not told that the accident happened in the early morning".
"He was ready to end it", Bartley told the Times.
La Resistencia has also recently dealt with three cases of medical neglect, she added, one of which ended in deportation and then death.
GEO Group, a private correctional institutions company that owns the facility Van Spronsen attacked in Tacoma, told The Associated Press that accusations made against its facilities "have led to misplaced aggression and a unsafe environment for our employees, whose safety is our top priority". "We're grateful for the quickly and courageous action by the Tacoma Police Division, which prevented innocent lives from being endangered".
GEO Crew acknowledged the prison in Tacoma has aloof amenities with air-con, recreational activities, a mattress for every particular person and sanatorium remedy accessible at all hours. The Pierce County Medical Examiner's office said he died of multiple gunshot wounds. The US Immigration and Customs Enforcement (ICE) will conduct the crackdown on those who have been deported by immigration court but have not left the country.