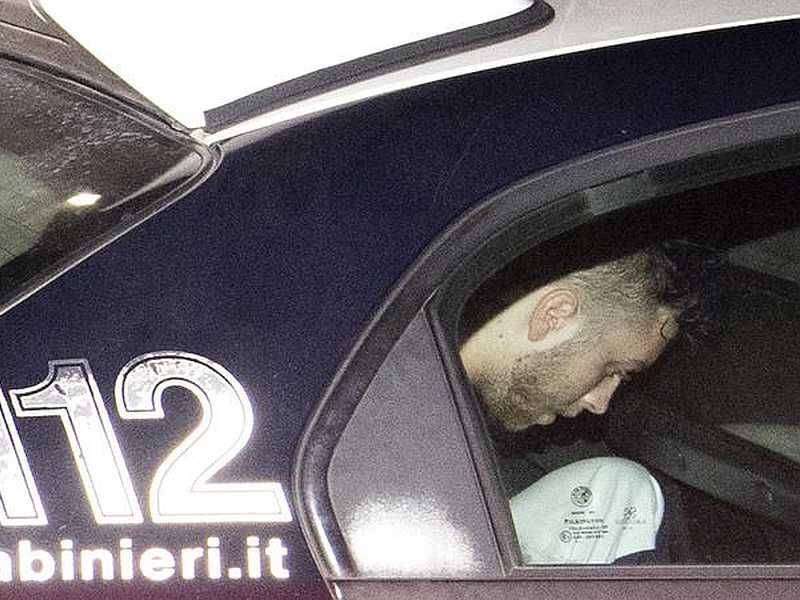 Prime Minister Giuseppe Conte called the officer's killing a "deep wound for the State", while the Italian army, state police and a host of other agencies, politicians and Italian citizens shared their condolences online.
In a statement, Carabinieri officers investigating the death early Friday of officer Mario Cerciello Rega, 35, said the American men were detained for alleged murder and attempted extortion after being questioned overnight.
After police were contacted by the victim, officers met the American suspects under the guise of retrieving the backpack. Authorities believe the man they stole the bag from was not involved in the drug deal, but may have told the Americans where they could purchase drugs before he was robbed of his bag, the spokesman said.
The two Americans were picked up at a hotel by police on Friday morning.
When the Italian man called his phone, the American teens demanded €100 and a gram of cocaine for the bag's return, according to the Carabinieri.
The owner of the bag reported the theft to local police who arranged to meet Hjorth and Lee undercover.
As they waited, they were approached by Rega and a colleague as part of a plain-clothed operation because the police had been tipped off about the bag exchange, Ansa reported. He was taken to hospital but died of his injuries.
The statement said that officers found the knife behind a panel in the hotel room ceiling with clothes the men had apparently worn during the attack.
Elder's lawyer, Francesco Codini, said his client had exercised his right not to respond to questions during a hearing before a judge at the jail Saturday to determine whether the suspects remain locked up.
Mourners lined up outside a Rome chapel where the coffin of 35-year-old Mario Cerciello Rega sat ahead of his funeral on Monday, which will take place in his hometown near Mount Vesuvius.
The US State Department said Saturday it is aware of the arrests.
Italian police said surveillance footage and witness testimonies were able to connect the two young Americans to the "heinous crime", which officials said occurred in the Prati neighborhood of Rome, close to the hotel where Hjorth and Lee were staying on vacation, according to the statement.
Amanda Knox was an American university student in Perugia when she was initially accused in the 2007 stabbing death of her British roommate Meredith Kercher.
Within two hours, reports leading daily Corriere della Sera, the officer responsible was identified and his name given to magistrates.
Both the Americans are accused of assaulting the police officers, who reportedly identified themselves as law enforcement officers.
The murder happened a few meters away from a police station and in front of the Italian Court of Cassation. "He never held back at work and he was figurehead for the whole district".