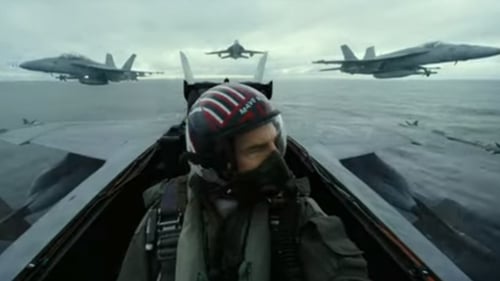 "The star shared a photo of himself in costume as Top Gun hero Pete "Maverick" Mitchell with the caption: "#Day1" and the fighter pilot's catchphrase "Feel the need" written across the picture.
Tom Cruise introduced the first trailer for "Top Gun: Maverick" at San Diego Comic-Con on Thursday, where the film's star held court with fans.
Released in 1986, the original Top Gun is peak '80s in terms of its music video-like visuals, an unapologetic celebration of muscular machismo and a pop soundtrack cranked up to 11. The sequel is set in the present day, and Maverick is now a flight instructor. Well, the trailer didn't disappoint.
The trailer for Top Gun: Maverick has soared into view, and it's everything Top Gun fanatics could hope for. "You should be at least a two-star admiral by now". Yet here you are... "You can't get a promotion, you won't retire and despite your best efforts, you refuse to die", his superior officer (Ed Harris) muses. "It's one of life's mysteries, sir", he responds. "Your kind is headed for extinction".
Variety was the first to drop the news that Miles Teller had been added to the sequel's cast. "Miles and Tom have fantastic chemistry on set, and they are clearly having a blast filming together", a source close to Miles told HollywoodLife EXCLUSIVELY.
Scheduled for a June 26, 2020 release, the film reunites Tom Cruise with his Oblivion director Joseph Kosinski. "I so looking forward to working with Tom, Joe and Jerry, all such unique pros", he wrote on Facebook.
Jennifer Connelly and Jon Hamm ("Mad Men") also play roles in the film, which is co-produced by Cruise.