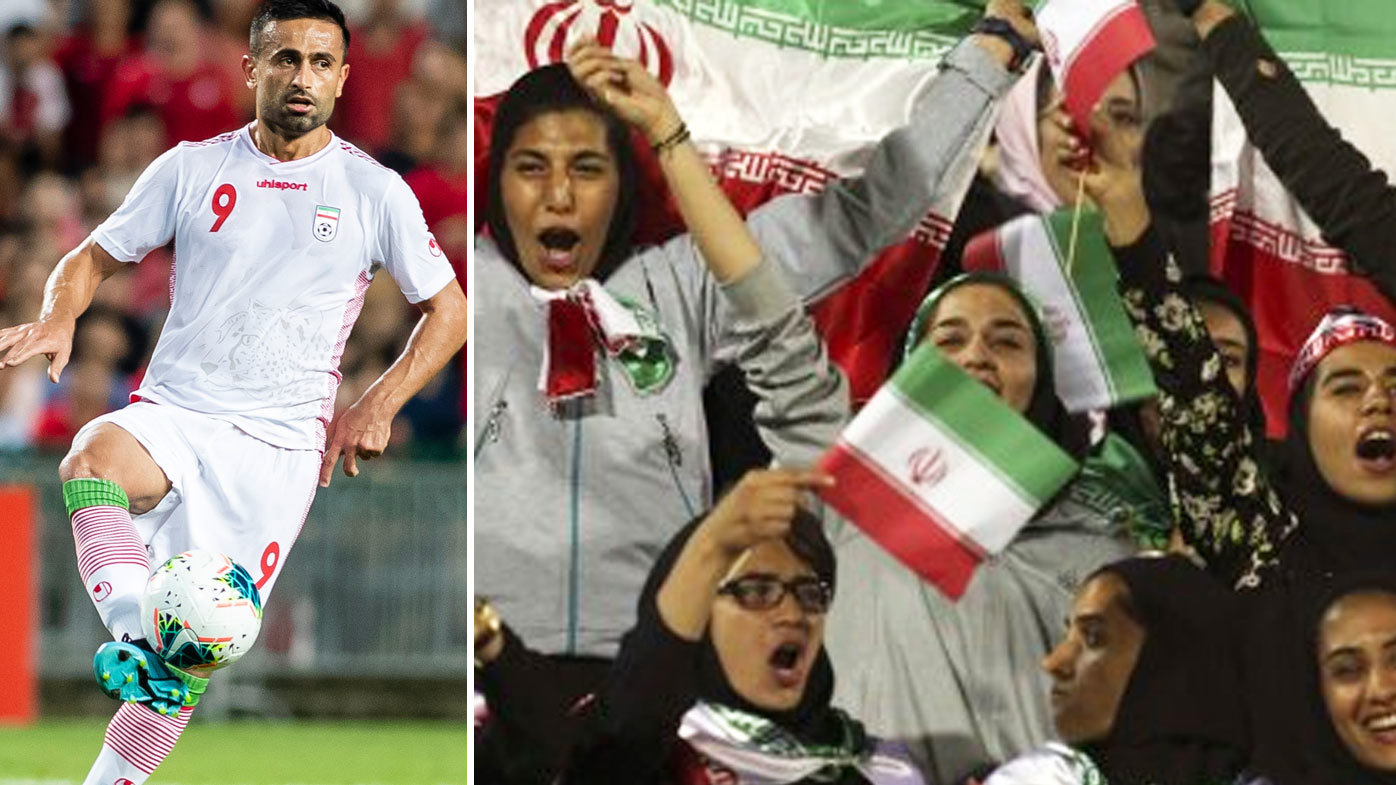 Iranian women cheer as they arrive to the Azadi Stadium to watch the 2022 World Cup qualifier between Iran and Cambodia.
Women were allowed to attend the 2022 World Cup qualifier between Iran and Cambodia after pressure from the world's governing body of the sport.
But the match in Tehran is arguably among the most consequential sporting fixtures to be played in years, as women will be watching from seats inside the Azadi, or Freedom, stadium, ending a prohibition that has been bitterly opposed.
Face-painted Iranian women have often cheered on their team overseas for years, despite being banned from doing so at home.
Apart from a few token groups at three worldwide matches, women have largely been banned from matches since the Islamic revolution in 1979.
While Iran for years has considered letting women into soccer matches, the decision to allow them in Thursday came as part of intense pressure from Federation Internationale de Football Association, the world body governing the sport.
"But, above all, today I want to say a very big thank you and record our utmost respect to all of the Iranian girls and women who courageously stood and are standing up for their rights".
When Iran's national soccer team takes the field on Thursday for an otherwise humdrum World Cup qualifier, there will be outsize interest not in the action on the field but in who is seated in the stands.
"We are so happy that finally we got the chance to go to the stadium.
FIFA was forced to pressure Iran's soccer federation because women paid a price, a woman [even] self-immolated herself; women have remained behind the closed doors of stadiums over and over, they've been beaten up, detained, and faced many other issues [because they wanted to attend men's football matches]".
Out of 36 sections of Azadi Stadium, only four were allocated to women. The news of her death at age 29 spread widely online with the help of the hashtag #bluegirl - a reference to the color of the Tehran club she supported, Esteghlal.
While allowing female fans into the stadium marks a significant relaxation of Iran's hardline stance, it is not a total compliance with the rules.
But despite the fact that the game is not sold out, officials said there would be no additional tickets provided for the women and that they should return home.
Initially, only four sections of the stadium were opened to women, allowing for some 3,500 to attend the match, but almost a thousand more were granted entrance halfway through.
But Amnesty International described the move on Thursday as a "cynical publicity stunt".
The reformist camp has welcomed the decision to allow women into Thursday's match, while conservatives have argued that football is not a priority for women.
Football fans took to social media after the game to celebrate a victory for women in Iran, with emotional scenes from Tehran trending on Twitter.
"This was 100 percent an achievement for women", she told AFP after the match, waiting outside the stadium with her family and friends. "The government should be thinking of this, not sending them to stadiums", it quoted a mother as saying.