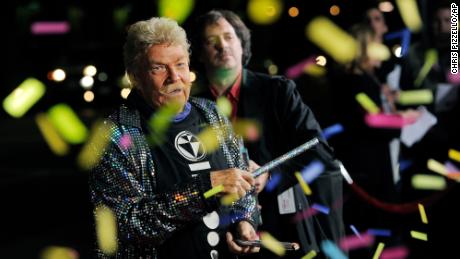 Comedian Rip Taylor, whose myriad TV credits include dozens of appearances on The Tonight Show Starring Johnny Carson and The Mike Douglas Show, died on Sunday at the age of 84.
Rip Taylor was born Charles Elmer Taylor on January 13, 1935, in Washington DC and even spent time as a congressional page before enlisting in the United States Army. "In desperation, I pretended to cry as I begged them to laugh".
It's where he said the character "Rip" came from.
His ascent began with spots on "The Ed Sullivan Show", where he was known as the "crying comedian".
Success begat more success, and Taylor ended up on tour with Judy Garland and Eleanor Powell in Las Vegas in 1966.
The energetic performer was famous for showering the stage with confetti during his appearances on game shows like Match Game, Hollywood Squares, Super Password, and The Gong Show. He also had a habit of using props in his bits, including confetti. with which he would shower himself and the audience.
Taylor's voice was heard on animated films, including "DuckTales the Movie: Treasure of the Lost Lamp", "Tom and Jerry: The Movie", and "Scooby-Doo and the Monster of Mexico", according to IMDb. Taylor also wrote and performed an autobiographical one-man play called "It Ain't All Confetti".
Later in his career, Taylor was known for playing himself in Wayne's World 2 and The Simpsons, as well as in several other movies and TV shows.
Taylor would remain in the pop culture zeitgeist for six decades with his own brand of comedy, appearing on a diverse array of TV shows and films. "Thank you for all the laughter you brought me", comedian David Alan Grier posted on Twitter.
Taylor is survived by his longtime partner, Robert Fortney. In lieu of flowers, donations can be made to the Thalians.