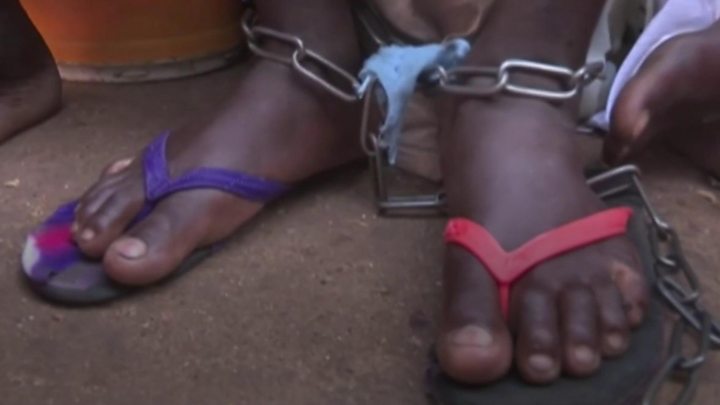 A freed captive told Reuters on Monday that the instructors beat, raped and even killed the men and boys held at the facility, who ranged from 7 to 40 years of age.
The police said some of the inmates were found in chains and handcuffs before they were rescued.
The Police authorities have discovered another torture centre allegedly meant to be a reformation place for children with character deformation in Daura, Katsina state.
The police freed the students aged between seven and 40 from the school.
The victims had suffered health complications having being subjected to poor sanitation.
"So far, we have arrested the owner of the facility along with two other persons".
"From here, he graduated to the level of collecting children for the goal of rehabilitating them, some of them underage while others of age were brought here by their parents supposedly for the objective of rehabilitating them".
"This is something that has been the tradition in this side of the North", said Isa.
CP Buba said that the victims have already been evacuated and taken to the hospital for treatment, while efforts are ongoing to reunite them with their families.
The commissioner said when policemen stormed the place, they discovered six rooms with over 40 inmates each dehumanised and chained.
The commissioner added that the condition of inmates called for urgent and serious concern, saying the police would search the 34 local government areas in the state to unravel such centres.
Eight people were arrested having been suspected to be coordinators of the centre. We are going to put heads together with the Emirate council and the state government so that we can put in place machinery of ensuring that all these people are returned to their parents because this man does not have the capacity.
Faruk Faruk, Emir of Daura, called on the police and other relevant security agencies to carry out a thorough investigation on the issue.
Reacting to the report, the Emir of Daura, Alhaji Umar Farouk Umar, said he was shocked that his domain was host to such a centre in the name of rehabilitating certain individuals.