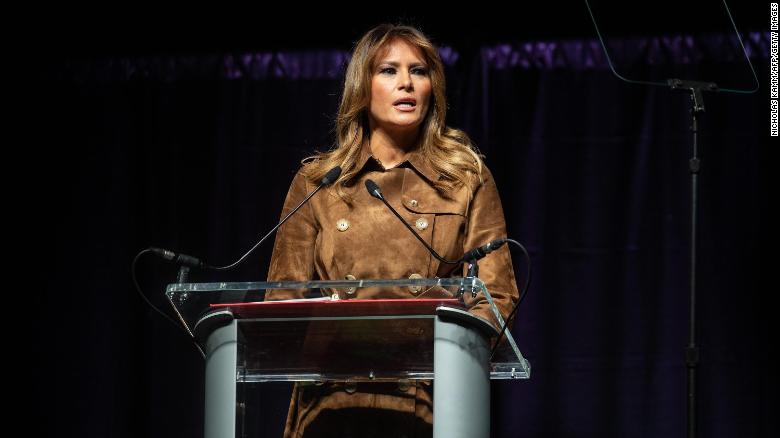 The youth summit is sponsored by the U.S. Drug Enforcement Administration and actor Mark Wahlberg's youth foundation to help educate students, teachers and parents about opioid use and misuse.
First lady Melania Trump was welcomed to the stage at an opioid awareness summit in Baltimore on Tuesday with some cheers, but also a loud chorus of boos that continued for nearly a minute.
For the first two minutes of her speech, there was reportedly more talking over her remarks.
According to pool reports from CNN's Kate Bennett, there were "some cheers", but that the "resounding chorus" and a "lot of audience noise" was negative.
The booing continued sporadically as Melania spoke, and students talked amongst themselves throughout the first lady's five-minute remarks. Buzzfeed's Dominic Holden tweeted in response to the first lady's reception in Baltimore. Not appearing to have been fazed by the booing, Trump began her remarks by thanking the students and other attendees for getting involved to fight the opioid crisis.
Get The Brief. Sign up to receive the top stories you need to know right now.
. "Like the previous speaker
said
, this is not a white or black issue, this is not a political issue, this is not a "I belong to his party, or I belong to that party" issue".
"I am so proud of you for the bravery it takes to share that you have been strongly affected by the opioid epidemic in some way", she said.
"If we continue to work hand-in-hand, I know we will be able to achieve incredible things", she concluded.