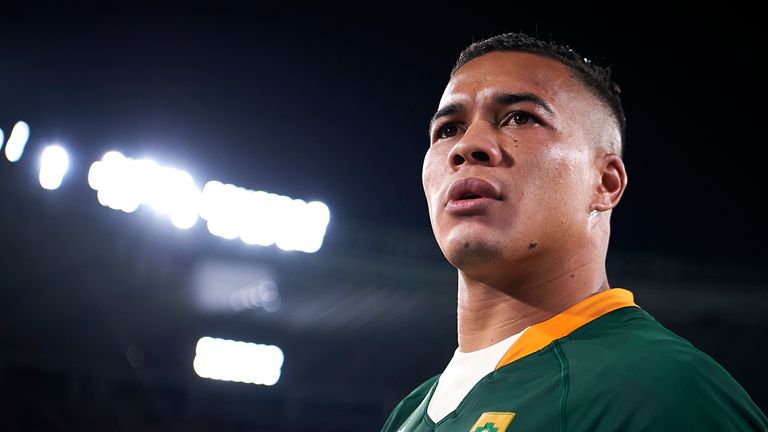 But the brutality continued as Mbonambi Mbonambi and Lodewyk De Jager both went down with injuries.
The Springboks then scored their first try in three World Cup finals when Mapimpi broke clear in the 66th minute, chipped ahead and collected the ball back from Lukhanyo Am, and recalled winger Kolbe then blasted through to put the gloss on a deserved win.
There will now be no parade on Tuesday for England, but they can head back with pride restored. "Japan has really improved since then so I want to see the country host the World Cup a couple more times".
Speaking after the impressive win over New Zealand, coach Eddie Jones said England's eyes were on the top prize. He will only look at it again in a quiet moment, but only after he departs England. "We're going to be kicking stones now for four years, we're massively disappointed".
Springboks number eight Duane Vermeulen, who was named man of the match, was also moved by how much the World Cup win would mean to South Africans.
'I've never seen a team like it.
"They are obviously a brilliant side, and they played brilliantly today".
"The players prepared tremendously well for this World Cup".
Indeed, hopes were high after England beat the All Blacks 19-7 in the semi-final.
"We didn't seem to be able to get a foothold in the game, and they had a lot of momentum in the first-half".
Prince Harry set aside his own England heartache to pay tribute to the "uniting" impact of South Africa's World Cup triumph, a key landmark in post-apartheid reconciliation.
"We stayed in the fight and were in with a chance but for some reason South Africa were too strong for us", Jones said. "Rugby should not create pressure, it should create hope".
"We had the privilege of giving people hope, not the burden of giving people hope", he said.
"It's not talking about hope, and saying you've got hope and sending a handsome Tweet about hope", he said.
The Australian has a contract with England until 2021 but said it was "not the time to discuss" his future after the defeat.
Kolisi said: "Since I have been alive I have never seen South Africa like this".
"We've come here to be the world's best and we haven't done that yet, so that's where we need to go".
"The way we played was because we wanted to say thank you to our coach who came in and changed a lot - on the way that we saw rugby - and I'm really grateful that we could do this for him and the coaching staff and everyone in the management". I couldn't have done any more and the team couldn't have done any more.