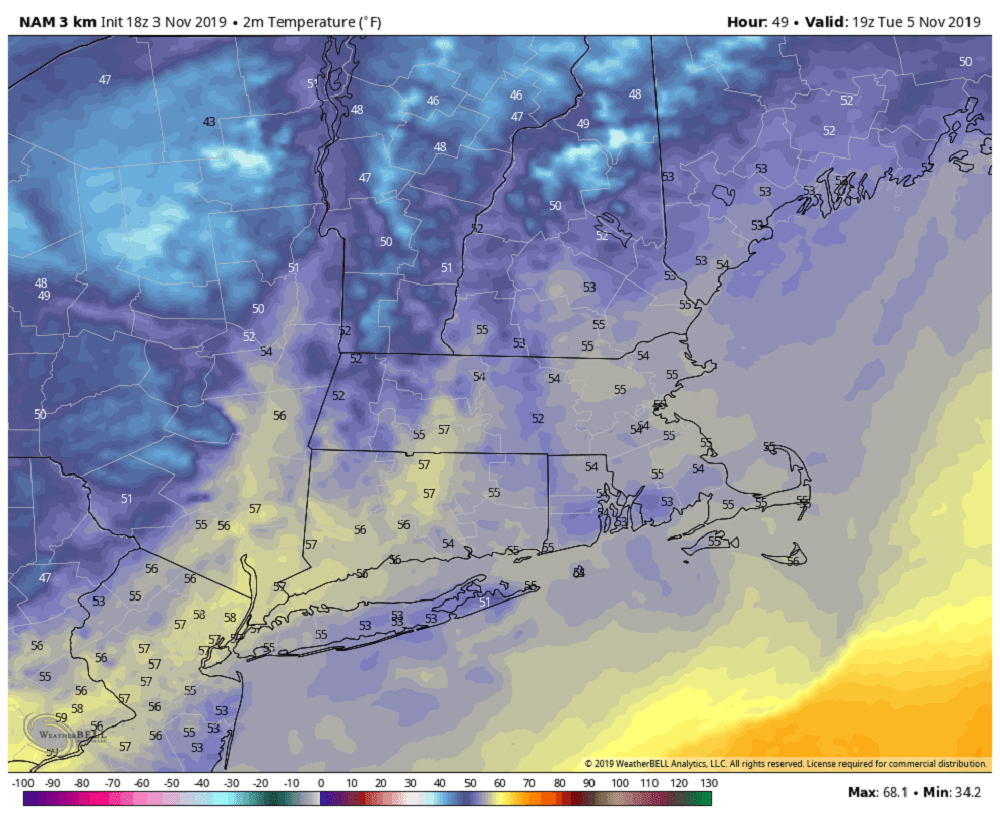 The Lake Effect Snow machine will turn on thanks to that northwest wind.
Veterans Day looks fine for much of the day with temperatures in the mid 50s. Grab the umbrella before stepping outside this morning. Eventually, clouds will start to move in as the pre-dawn hours approach. Temperatures are starting in the upper 30s to middle 40s. Snow showers will move in from the west, and precipitation chances will increase for the afternoon and evening. By Tuesday, frigid temperatures as low as the 40s are predicted to reach as far as the northern Gulf Coast, including cities like New Orleans and Houston. That changeover is not a guarantee, but it's fair to think that light accumulations (on the order of an inch or maybe two) are possible.
Saturday brings bright and sunny weather and after the cold start, temperatures will rebound toward 40 in the afternoon. Wind chill advisories might also have to be issued.
Friday Night: Clear with less wind. Temperatures will fall to the upper 30s for kickoff and hang there through the 4 quarter.
The weekend will be chilly on Saturday.
SATURDAY: Mostly sunny, breezy and warmer.
For much of the country east of the Rockies, the cold wave could mean temperatures of up to 30 degrees below average, according to CNN meteorologist Taylor Ward. Winds will relax through the day. We should top out near 60 degrees Sunday afternoon. Factor in our gusty winds and temperatures are feeling more like the teens and 20s across southwestern Virginia.
Another blast of Arctic air arrives on Sunday.
The winters in Acadiana since, in spite of have some limited cold outbreaks, have all been above normal during the periods of December through February. Rain chances will shift to the east. The storms will mark the advance of some of the coldest air of the season throughout the region.