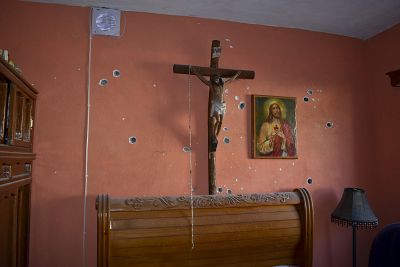 Four police officers, two civilians and 13 suspected cartel members were among the dead, Gov. Miguel Angel Riquelme Solis said Sunday.
Clashes between police and suspected cartel gunmen in a northern Mexican town killed 21 people this weekend, authorities said, adding fuel to a debate sparked by U.S. President Donald Trump, who has vowed to designate the gangs as terrorists.
Another six people were were injured, Solis added.
Ten suspected cartel gunmen and four police were killed during a bloody shootout on Saturday in a Mexican town near the US border, authorities from the state of Coahuila said, during a moment of heightened bilateral tension over violent gangs.
The shootout erupted around mid-day on Saturday in Villa Union, a town of about 3000 residents, near the USA border, and just days after President Donald Trump raised bilateral tensions by saying he would designate the gangs as terrorists.
Mexican President Andres Manuel Lopez Obrador, who is pushing a less confrontational approach to subduing the cartels, repeated on Sunday that he would not accept any intervention from overseas, while doubling down on his strategy of containment.
Several other people were reported missing, including staff from the mayor's office.
The gunmen peppered the Villa Union's mayor's office with bullets and state police pursued the gang members after they fled the town, killing seven more in the early hours of Sunday, the Coahuila government said in a statement.
Heavy gunfire echoed through the town on videos broadcast on social media and local television. Plumes of smoke also could be seen rising above the town.
Mr. Lopez Obrador says Mexico will handle the problem.
But, "we won't allow organized crime to come to the area", he said.
In an interview aired on Tuesday, Trump said he planned to designate the cartels as terrorist organisations, sparking concerns the move could serve as a prelude to the United States trying to intervene unilaterally in Mexico.
U.S. Attorney General William Barr is due to visit Mexico next week to discuss cooperation on security.
A series of recent security lapses has raised questions about the left-leaning administration's strategy.
The November slaughter by Mexican drug cartel gunmen of three women who held USA citizenship and six of their children focused world attention on the rising violence.
Homicides reached record levels in Mexico last year and are on track to surpass that total this year.