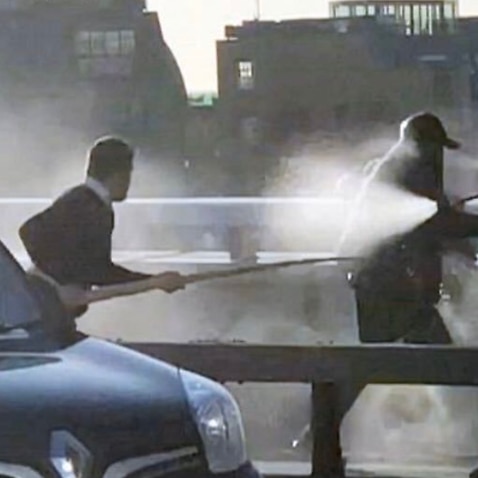 United Kingdom counterterrorism police on Saturday searched for clues into how a man imprisoned for terrorism offences before his release previous year managed to stab several people before being tackled by bystanders and shot dead by officers on London Bridge.
Prime Minister Boris Johnson visited the scene of the attack Saturday, and criticized the early release of terrorists.
Metropolitan Police Commissioner Cressida Dick confirmed two people, a man and a woman, had died as a result of the attack. The identity of the other individual with the fire extinguisher, or the origin of the extinguisher, is not known at this time. A third used his fists and feet. The driver was then shot and killed by another police officer.
Those individuals who intervened to stop the attacker were lauded by both the public and British leadership, earning recognition from Queen Elizabeth II on down. She thanked police and emergency services "as well as the fearless individuals who put their own lives at risk to selflessly help and protect others". The rampage continued as three attackers got out of the van, pursuing and stabbing people, killing eight and wounding 48.
Videos on social media appeared to show passersby holding down the man on London Bridge as police arrived and pushed people away before shooting the suspect.
Police were called to the north side of London Bridge at 1.58pm on Friday, after reports of a stabbing near Bank station and Fishmongers' Hall.
The 25-year-old and another female victim were stabbed to death by Usman Khan, 28, on Friday. All three were shot dead by police. Three others were wounded.
He also had equipment strapped to his body that police said they believed to be a "hoax explosive device". "They regarded themselves as more serious jihadis than the others". What do they do?
Mr. Khan's attendance at the event would have been cleared by authorities monitoring him, officials said. The man with the tusk was identified by The Times as Luckasz, a chef from Poland who worked in the hall's kitchen.
"The circumstances, as we now understand them, are that the attacker attended an event earlier on Friday afternoon at Fishmonger's Hall called 'Learning Together". The event was hosted by Cambridge University.
Queen Elizabeth has given her "enduring thanks to the police and emergency services, as well as the fearless individuals who put their own lives at risk". "Luckasz is a hero".
"And it was while he was subject to these conditions that he performed this horrific attack yesterday", Fisher said.
Many on Twitter pointed out that the man was an European Union citizen and praised immigrants. Britain's Criminal Justice Act states that half a sentence needs to be spent in jail with the other half under supervision but in the community.
The former head of Britain's National Counter Terrorism Security Office, Chris Phillips, said it is wrong to ask police and security services to keep the country safe while letting people out of prison when they are still a threat.
It was unclear if Ford was attending the same conference as the attacker. The MI5 determined that they had planned a series of attacks akin to the multi-day terrorist assaults in Mumbai in 2008, but this time targeting the British Parliament.