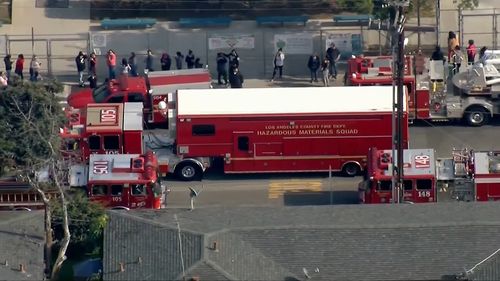 More than a dozen elementary school children are being treated after a plane dumped jet fuel over a school playground near Los Angeles.
Officials did not provide the name of the school, but Sky5 video showed multiple first responder units - including ambulances - at the scene of Park Avenue Elementary School, which is about 14 miles east of Los Angeles International Airport.
The Los Angeles County Fire Department said 70 firefighters and paramedics responded to the Park Avenue Elementary School in the Los Angeles suburb of Cudahy after reports of a substance coming from an overhead aircraft, the department tweeted.
A Delta Airlines flight reportedly had to return to the airport after takeoff.
'Students and staff were on the playground at the time and may have been sprayed by fuel or inhaled fumes, ' the district said. Paramedics are treating those complaining of skin irritation or breathing problems.
A total of 17 children received minor injuries from the dump, and six adults were also injured.
The Shanghai-bound plane had just taken off when it began experiencing an engine issue, which forced it to return to the airport, Delta said in a statement. "The aircraft landed safely after an emergency fuel release to reduce landing weight." a Delta spokesperson said. In a written statement, the Los Angeles Unified School District said educators at are checking each classroom to make sure no injuries were missed.