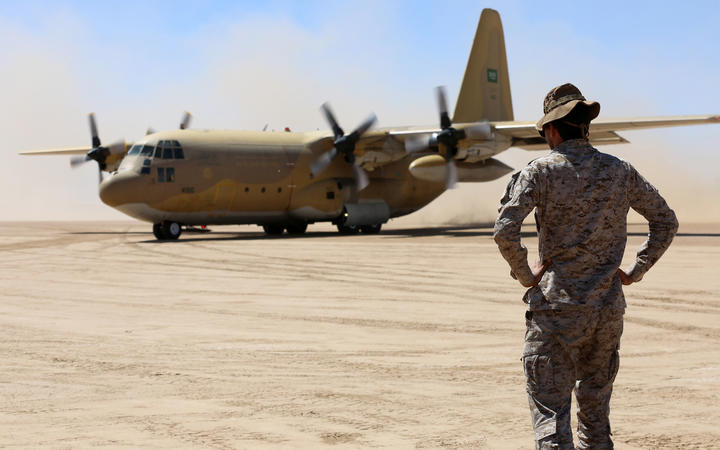 An explosion is seen during a suspected attack by the Houthi forces on Saudi positions near the border with Saudi Arabia's southern Najran region in Yemen.
Saturday's strike follows months of relative calm in the war between the Iran-backed Huthis and Yemen's internationally recognised government, which is supported by a Saudi-led military coalition.
A medical source at Marib city hospital, where the casualties were transported, told AFP at least 70 were killed in Saturday's strike. According to official Saba news agency, fighting in Naham was ongoing today.
A local source, requesting anonymity, said a house caught fire after the Saudi-backed militiamen targeted it with medium caliber projectiles.
The president also stressed the importance of increasing military vigilance "to foil hostile and destructive plans and maintain security and stability".
The Iranian-oriented Houthis did not immediately take responsibility for the attack.
Yemen has been embroiled in a yearslong civil war that has pitted a coalition backed by Saudi Arabia and the United Arab Emirates against the Iran-backed Houthi rebels.
"The hard-earned progress that Yemen has made on de-escalation is very fragile".
The US-based Armed Conflict Location and Event Data Project (ACLED), a nonprofit conflict-research organization, estimates that the war has claimed more than 100,000 lives over the past four and a half years.
The conflict has left more than 10,000 dead, displaced more than 3 million and pushed the country to the brink of major starvation.
The grinding war in the Arab world's poorest country has killed more than 90,000 people, displaced more than three million and pushed the country to the brink of major starvation.