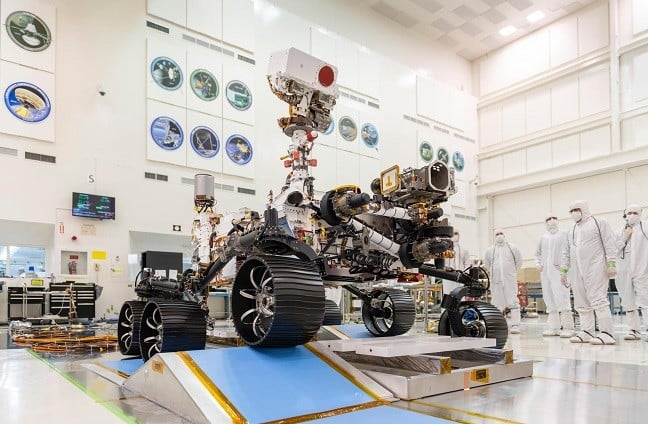 The agency originally received 28,000 pitches, coming from US students ranging from kindergarten to high school.
The nine students whose proposals made the list of finalists will talk about their name ideas with a panel that includes Glaze, NASA astronaut Jessica Watkins, rover driver Nick Wiltsie, and Clara Ma, who named the Curiosity rover in a similar contest when she was in sixth grade in 2009. The spacecraft is targeted for a July 2020 launch and is expected to touch down on Mars in February 2021. And now, to select one out of the proposed nine names, NASA wants your help.
"Thousands of students have shared their ideas for a name that will do our rover and the team proud", says Lori Glaze, director of NASA's Planetary Science Division. In the 5-8 category, the names are Perseverance (from Virginia's Alexander Mather), Vision (from Mississippi's Hadley Green) and Clarity (from California's Nora Benitez). In order to help NASA to choose the name for the 2020 Mars rover, all you have to do is cast your vote.
Ingenuity, 9-12, Vaneeza Rupani of Alabama.
Tenacity, K-4, Eamon Reilly of Pennsylvania.
Fortitude, 9-12, Anthony Yoon of Oklahoma.
The poll is located at Go.nasa.gov/name2020 and is open until 9:00 pm PST on January 27. A panel of almost 4,700 judge volunteers, composed of educators, professionals and space enthusiasts from all around the country, helped select the finalists.
"The contest will conclude in early March, when the rover's new name - and the student behind it - are announced", NASA officials added. The grand prize victor will receive an invitation to see the spacecraft launch in July 2020 from Cape Canaveral Air Force Station in Florida.
The 2020 rover's work will begin in areas of Jezero Crater, where it will search for signs of ancient life, including mineral deposits and perhaps even microscopic fossils.
But the new rover will also be on a mission to lay the groundwork for future human exploration by testing out instruments that will use ground-penetrating radar for the first time, study weather science and convert carbon dioxide to oxygen.