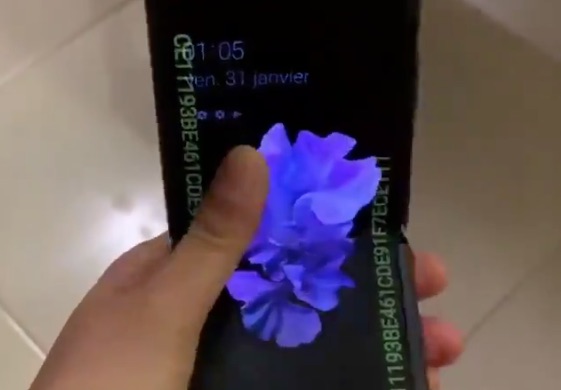 Feast your eyes, folks. But if you're expecting something similar to happen ahead of the Galaxy S20 series announcement event next week, you're likely to end up very disappointed on February 11.
The 19-second clip was posted to Twitter by Yunis Ali and quickly reposted by Ben Geskin.
The video does not show a lot but it does show the new 22:9 aspect ratio of the display as well as what appears to be a smooth glass surface (no "normal" bumps here).
Similar to the Galaxy Fold, the Galaxy Z Flip uses a side-mounted fingerprint reader.
Watching the video (embedded below) you will see that the device starts off as a nicely compact device which would be quite comfortable to pocket or squirrel away in a small bag to carry around (it's created to be like a Lancôme makeup compact). The bezels around the screen are not the smallest, but still quite impressive considering this is a foldable device. A single punch-hole camera is found at the center of the display. The Z Flip has a 12MP+12MP dual-camera setup on the outside and a 10MP autofocus selfie camera on the inside. This leads us to believe that the Galaxy Fold successor exists and Samsung is actively working on it.
Several real-life and press render images of the Galaxy Z Flip have been leaked already, but it is the first time that a live hands-on video of the foldable-screen phone has made it to the internet.
Geskin's video isn't long, but it's worth checking out to see how Z Flip owners will interact with it on a daily basis.
As you can see in the video, the phone opens up like a flip phone of old, just like Motorola's new Razr.