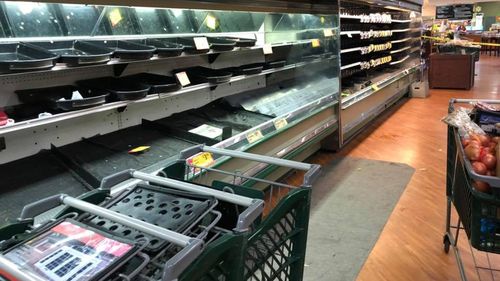 Hanover Township police said in a statement that a woman "intentionally contaminated" the food at the local Gerrity's supermarket and that she was undergoing mental health treatment while awaiting criminal charges.
Among people licking toilet seats and whatever they can find on Wal-Mart's store shelves, there is another women in Pennsylvania who chose to cough purposefully all over a small grocery store's produce, resulting in the grocery store to forfeit and throw out $35,000 worth of food. "We had no choice but to throw out all product she came in contact with". They do not believe she is infected with the coronavirus, but police are making "every effort" to ensure she is tested.
WNEP-TV reports that the woman's mental state is now being evaluated at a hospital.
Taking to social media, Joe Fasula - the co-owner of the grocery store chain - spoke out about how the unidentified woman entered the store on Wednesday afternoon, where she carried out her "twisted prank".
He went on to say that the loss of the food thrown away was estimated to be in the region of $35,000, the equivalent of £30k.
At this time, the store says they are working with the health inspector and their insurance company to see if it will cover any of the losses. "While it is always a shame when food is wasted, in these times when so many people are anxious about the security of our food supply, it is even more disturbing", Fasula wrote.
Police officers were contacted immediately after the incident while store workers tried to force her out, the post read. It is unknown if the woman has the COVID-19 virus or not.
The only silver lining, he said, is that the incident gave employees a chance to test their emergency protocol. At least 15 store employees and members of the Hanover Township's health department worked furiously to clean and disinfect the store.
He thanked everyone who helped, including those who came in on their day off and those who stayed late to help. "I would also like to thank the people who will going in early tomorrow to get the departments restocked". "They have assured me that they will be aggressively pursuing numerous charges", he wrote. "One thing is for sure, we will have the cleanest display and freshest produce anywhere in northeast PA", Fasula's post said.
Federal law enforcement recently announced it's considering terrorism charges for anyone purposely spreading COVID-19.it's unclear if this disgusting woman has coronavirus, though.