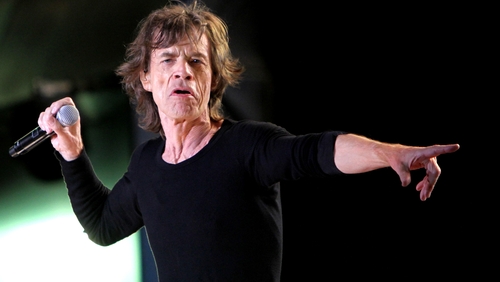 The eight-hour One World: Together at Home event will be shown throughout the world tomorrow on numerous social media and streaming platforms starting at 2PM ET, with the last two hours be shown on USA broadcast networks beginning at 8PM ET.
The event, organised by the World Health Organisation and the nonprofit group Global Citizen, was the biggest celebrity effort so far to mark the coronavirus pandemic that has killed more than 150,000 people worldwide.
Paul McCartney, the Rolling Stones and Eddie Vedder were among those on "One World: Together at Home" on Saturday night.
Organised by Lady Gaga and hosted by Jimmy Kimmel, Jimmy Fallon and Stephen Colbert, the star-studded concert was created to raise coronavirus awareness and to celebrate frontline workers.
The Prayer, a song with that much vocal and celebrity firepower, was obviously going to be reserved for the climax of the long day of music.
Contributions, all filmed in their homes, also came from Elton John, Jennifer Lopez, Stevie Wonder, British soccer star David Beckham, former US first ladies Michelle Obama and Laura Bush, Andrea Bocelli, Celine Dion, Billie Eilish, Bill Gates and dozens of others.
But the Stones' core quartet of Mick Jagger, Keith Richards, Charlie Watts and Ronnie Wood will all be taking part, a Global Citizen spokesperson confirmed.
Those who appeared in the show called the health-care workers "the real heroes".
"This is for everyone out there who's been working on the front line", he said.
Amid the moving songs from artists around the globe were speeches from Michelle Obama, Laura Bush and Oprah.
"And please be a part of our name for a world ceasefire to give attention to our frequent enemy - the virus".
Emily dressed as Elton John and Molly as Lady Gaga watch the concert One World: Together At Home in Britain.
The party kicked off at 2pm Eastern Time (1800 GMT) with a six-hour pre-show streamed online, which will feature a laundry list of stars including performers Christine and the Queens, Annie Lennox and Luis Fonsi; actors Don Cheadle and Samuel L Jackson; and soccer star Megan Rapinoe.
Adam Lambert performed a rendition of Tears for Fears' hit "Mad World", while The Killers delivered a stripped-back version of "Mr. Brightside".
And New Yorker Sarah Jessica Parker of "Intercourse and the Metropolis" fame gave a shout out from her sofa to medical staff toiling on the metropolis's notably hard-hit hospital Elmhurst.
"The humanity is our common language".