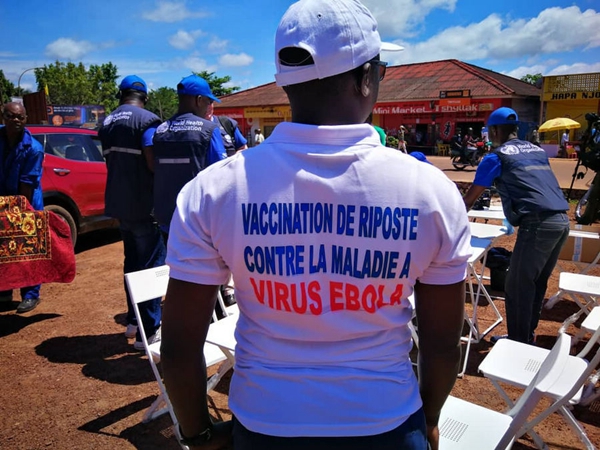 The victims died on May 18 but test results confirming Ebola came back at the weekend, according to Congolese Health Minister Dr Eteni Longondo.
The Democratic Republic of Congo is still struggling to end an outbreak that started in 2018 in the eastern part of the country, in which 3,406 cases have been reported, with 2,243 deaths, according to WHO.
The new cases are reported in Equateur, while the existing clusters were identified in April almost 1,000km away in the eastern regions of the country.
"This outbreak is a reminder that COVID19 is not the only health threat people face", World Health Organization Director-General Tedros Adhanom Ghebreyesus tweeted.
Seven new cases were then recorded, including four deaths, two recoveries and one patient who fled, and the clock was restarted on May 14.
Another four people were being held in isolation at a hospital in Mbandaka, the UN's children agency Unicef said.
"Given the proximity of this new outbreak to busy transport routes and vulnerable neighboring countries, we must act quickly", Dr. Matshidiso Moeti, WHO regional director for Africa, said in a statement.
The World Health Organization declared the outbreak a public health emergency of worldwide concern in July 2019, after the highly contagious virus threatened to spread to the large city of Goma and neighbouring countries.
However efforts to contain Ebola in the east have been hindered by attacks on health workers and conflicts in the country's volatile region, long riven by militia killings and ethnic violence. Ebola, which is endemic to Africa's tropical rainforests, is transmitted only through contact with an infected person's bodily fluids and manifests as a hemorrhagic fever accompanied in severe cases by vomiting and extensive internal bleeding.
A new outbreak of the Ebola virus has been reported in the Democratic Republic of Congo.
"We are in an ascending period of the curve, ' Longondo said, adding that it was still too 'risky" to lift measures imposed on March 20 to stem the spread of COVID-19.
This announcement marks the 11th time that Ebola has hit the province since the virus was first discovered in the Congo in 1976.
"I have devoted all my life and all my career to fighting Ebola", Muyembe has said. "In the ongoing outbreak in Eastern DRC, more children, proportionately, are being affected than in any previous Ebola outbreak, so we must ensure that preventing infection among children is central to the response in Équateur".