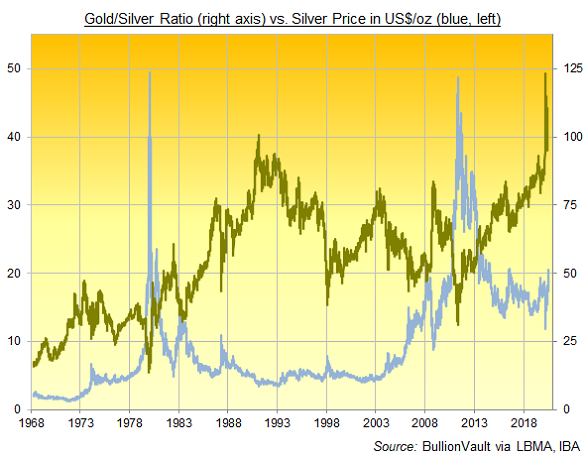 Likewise, tejabi gold is priced at Rs 93,560 per tola while silver registered an increase by Rs 95 to be traded at Rs 1,135.
Elsewhere, silver retreated 1.1% to $22.79 per ounce, after having rallied to a near seven-year high, helped by hopes for a revival in industrial activity.
USA gold futures were 0.7% higher at $1,856.90 per ounce. Multi Commodity Exchange (MCX) gold futures - due for delivery on August 5 - rose by Rs 493 or 1 per cent to a record Rs 50,020 in morning.
Globally, spot gold and silver prices rose to nine-year and seven-year peak, respectively due to surging COVID-19 cases, soft USA currency and expectations of more stimulus measures by countries worldwide to revive their virus-hit economies, analysts with domestic commodity brokerages said.
In overseas market, spot gold jumped more than 1% on Wednesday to its highest in almost nine years, driven by a weaker dollar and safe-haven buying.
"Spot gold prices for 24 karat in Delhi hit a new record high rallying by Rs 430, reflecting gains in global prices", HDFC Securities Senior Analyst (Commodities) Tapan Patel said.
"Gold prices hit a fresh high on uncertainties brought about by the COVID-19 pandemic".
Analysts said that prices of both precious metals went up reflecting the upward trend in the global market, amid rise in safe haven investments. "The safe-haven investment demand further went up as US President Donald Trump has said the coronavirus situation could worsen before it gets under control", he added.
The price of gold has been rising while the value of the U.S. dollar has taken a hit in recent months.
"Silver has rallied sharply amid concurrent gains in gold and industrial metals", stockbroking firm Kotak Securities said in a note according to Mint.
Now that the dollar is weakening, the USA dollar-denominated precious metal is becoming more attractive for overseas buyers with stronger currencies.
"Given the lower interest rates, negative falling bond yields, sustained liquidity push by many central banks and expanded fiscal balance sheets to minimise the impact of COVID-19 related slowdown, we expect gold to deliver 30 percent returns targeting Rs 65,000/10 gm over the next 18-24 months", said Navneet Damani, Vice President, Motilal Oswal.