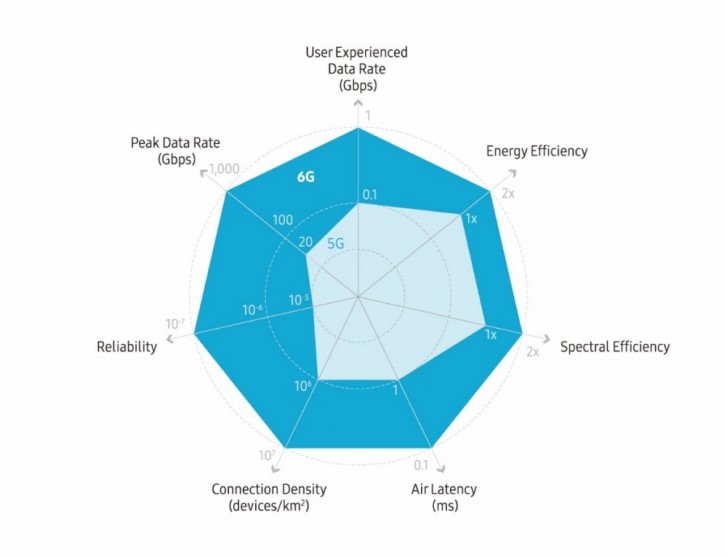 Oh, and 6G by 2028; that would be the gist of a newly released white paper from Samsung Research talking about "The Next Hyper-Connected Experience for All". Having founded its "Advanced Communications Research Center" for 6G-related projects in May 2019, Samsung joins the ranks of several other tech giants-including Huawei and Xiaomi-racing to be at the forefront of 6G development and delivery over the coming decade.
Samsung Electronics is expecting that the next generation of networking will arrive as early as 2028.
5G commercialization is still in the early stages, but it's not too early to start thinking about what 6G will bring. As 5G is still on its way to global domination, Samsung has already started to focus on developing the next-generation 6G network.
Sunghyun Choi, Head of Advanced Communication Research Center, said that the company has launched a research and development program for the 6G network and in this direction the company is working on all the necessary developments.
Mass commercialisation of 6G may occur around 2030, Samsung said on Tuesday, adding that both humans and machines will be the main users of 6G. The deployment of 6G, Samsung said, will take tech-driven experiences to the next level, allowing for the smooth operation of truly immersive extended reality (XR) and high-fidelity mobile holograms. "Going forward, we are committed to leading the standardisation of 6G in collaboration with various stakeholders across industry, academia and government fields", he said.
In its white paper, the company also outlined the requirements for 6G in terms of performance, architectural and trustworthiness requirements. In order for 6G to work effortlessly, it should provide 1000 Gbps peak data rate (50 times faster than 5G), with air latency less than 100 microseconds (one-tenth of 5G latency).
"The architectural requirements of 6G include resolving the issues arising from the limited computation capability of mobile devices as well as implementing AI right from the initial phase of technology development and enabling the flexible integration of new network entities", said the company in a statement.
The Electronics and Telecommunications Research Institute (ETRI), a state-funded body in wireless communication domain, has been working on the THz band for 6G.
The report also introduces candidate technologies that could be essential to satisfy the requirements for 6G, including the terahertz frequency band, novel antennas, advanced duplex technologies, advanced network topology, spectrum sharing to increase the efficiency of frequency utilization and artificial intelligence-applied wireless technologies.