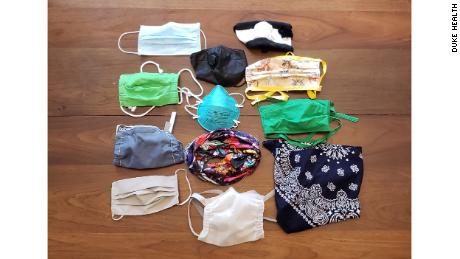 To fill that void, Fischer and his team devised an easy-to-make, affordable laser experiment, which can be used to test how different kinds of masks block tiny droplets that come out of people's mouths when they speak.
Answering the skepticsDespite the scientific evidence supporting the wearing of masks, many Americans have voiced objections to their use. "They tend to hang around longer in the air, they can get carried away easier in the air, so this might actually be counter-productive to wear such a mask", Fischer said in a video released by the university. Droplets that propagate through laser scatter light, which is recorded with a cell phone camera.
A visual explanation showing how the laser beam and sheet of light work to capture respiratory droplets.
Martin Fischer, a chemist and physicist, stepped up.
They tested 14 different types of masks, including surgical, N95, cotton, and polypropylene masks, as well as neck fleeces and bandanas to include a combination of alternative homemade masks and ones more traditionally used as protective equipment. Most of the speakers respiratory droplets were suppressed while wearing both of these masks.
According to the study, disposable surgical masks (nonwoven, 3-layer) may seem flimsy, but they are engineered to catch droplets.
The most effective mask was the fitted N95.
Polypropylene/cotton blend materials released 5% of expelled droplets while talking, and most of the pleated cotton masks tested released about 20% of the droplets expelled while talking.
Bandanas and neck fleeces provide little protection said scientists as they observed that more droplets are expelled through these materials.
The results for different face mask materials.
This extra-high number of droplets from a fleece mask is explained by the fact that the mask dispersed large droplets into a multitude of smaller droplets, leading to the researchers inferring that wearing such a mask is counterproductive in the fight against the spread of Covid-19.
"Still seeing a lot of these masks out there, it is confusing, because they are called N95 - but the ones with the valves or openings on the front are NOT safe, and may actually propel your germs further!" the tweet read, according to Fox News. Furthermore, the performance of the valved N95 mask is likely affected by the exhalation valve, which opens for strong outwards airflow.
But improvised face coverings such as bandanas and balaclava-style face coverings were less effective, the researchers found.
"But it demonstrates that this sort of test could easily be conducted by businesses and others that are providing masks to their employees or patrons".
The findings have public policy implications, particularly in the United States where the authorities have encouraged the public to use textile masks and leave the medical products to healthcare workers because they are in short supply.
In the absence of a vaccine or antiviral medicine, wearing a face mask, frequent hand-washing, and social distancing, are considered to be the best preventive measures to slow the spread of the novel coronavirus. If you're going the pre-made route, a multi-layer fitted cotton mask is your safest reusable option right now, and luckily, there are plenty of celeb-approved options out there.
However, there are significant limitations to the study. "They can unknowingly spread the virus when they cough, sneeze and just talk", Dr. Eric Westman, a Duke physician, said.
"If we can stop those droplets before they get out into the environment, we can reduce the risk of coronavirus transmission".