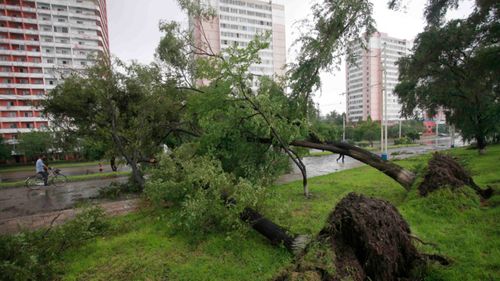 Still Australia's most populous state, New South Wales, yesterday said it has found 13 new cases, the biggest one-day rise in cases since Aug 13.
Melbourne remains under lockdown as authorities work to suppress a recent resurgence of coronavirus cases, recording 113 new cases on Friday and another 12 deaths from the disease.
Mr Andrews said the benefits from the first four weeks are starting to show.
Metropolitan Melbourne is subject to another fortnight of strict stage four restrictions including an 8pm to 5am curfew and a ban on travelling beyond a five-kilometre radius of home.
Outbreaks among healthcare workers were also driving the numbers, with disability workers now included in that count.
"But we just have to stay the course on this".
Mr Andrews was cautious about rushing to a return to normal, saying the path back to normality will be based on "science and data and evidence".
"We can't open up too soon because like a fire, if you just leave it there smouldering, not having done the job properly then it's only a matter of time where it will take off again and we will be back where we started".
Restrictions across Melbourne are due to expire on September 13 but will be reduced gradually rather than cancelled completely.
Mr Andrews said he was anxious people would flout the rules.
Health officials have indicated that recommendations for face masks could remain in place for several more months.
Mr Andrews said discussions with the crossbench were still ongoing. The last time cases were in single digits was June 16.
A "not insignificant" proportion of the 513 cases in hospital are from aged care and it would be a while before the mortality rate fell, Prof Sutton said.
Nine of the 11 deaths are related to outbreaks at aged care facilities, bringing the state's toll from the virus to 524 and the national total to 611.
With fine weather forecast for the weekend, Victorians are being urged to stick with the state's coronavirus rules.