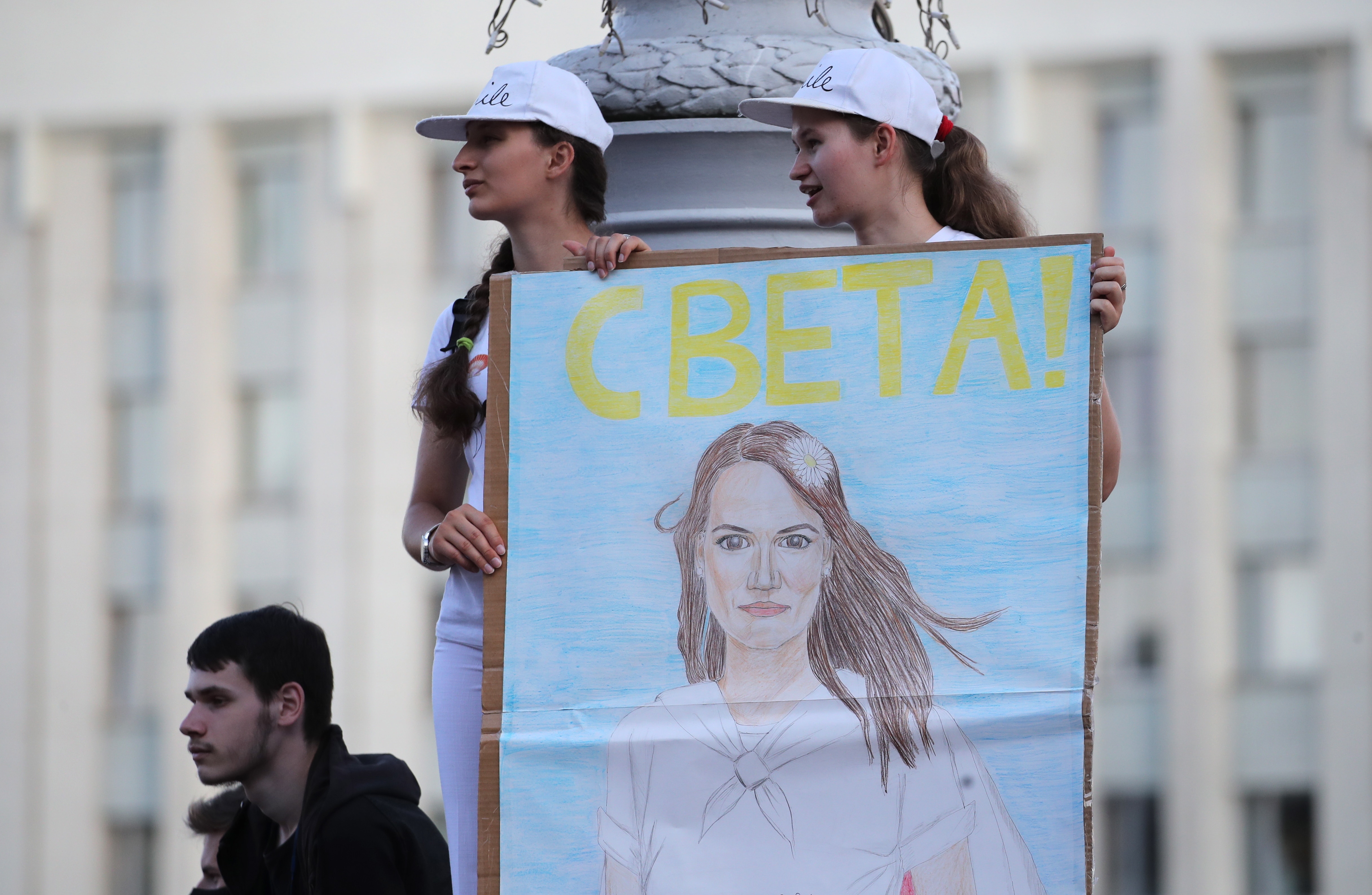 Protests started August 9 after a presidential election that officials say handed the 65-year-old Lukashenko his sixth term in office with 80 per cent voter approval.
The defence ministry said it had now taken over responsibility for the protection of such memorials, and that any unrest near them would elicit a response from the army.
Protesters say they are fed up with the country's declining living standards and have been angered at Lukashenko's dismissal of the coronavirus pandemic.
Europe's longest serving leader said that North Atlantic Treaty Organisation troops in Poland and Lithuania were "seriously stirring" near their borders with Belarus and ordered his troops into full combat readiness.
The streets of Minsk turned red and white as a flood of demonstrators carried flags symbolising their opposition to Lukashenko and chanted for him to leave power and for new elections to be held.
"We are people of Belarus and we are a majority and we will not step away".
The EU has rejected the results of the election and has vowed to sanction Belarusians responsible for ballot fraud and a police crackdown that saw almost 7,000 people arrested and sparked gruesome allegations of torture and abuse in police custody.
"The fatherland is now in danger".
"Lukashenko can't propose anything other than tears for the USSR, bans and truncheons", said Tatian Orlovich, in the crowd at the evening protest.
Also on Sunday, at least 30,000 people, including Lithuanian President Gitanas Nauseda, are expected to take part in the formation of a human chain from the capital Vilnius to the Belarus border.
"We are closer than ever to our dream", she said in a video message from Lithuania, where she took refuge after the election.
The unlikely leader of Belarus's opposition, 37-year-old Svetlana Tikhanovskaya, fled to Vilnius fearing reprisals for claiming victory in the elections and mounting the greatest challenge to Lukashenko over his 26-year rule.
Belarus' president on Friday shot down France's offer to mediate between the government and opposition in the wake of a controversial election, pointing instead to France's own domestic problems.
Opponents of Europe's longest serving leader have organised strikes and the largest demonstrations in the ex-Soviet country's recent history to protest his re-election and demand that he stand down.
Lukashenko appeared before supporters on Saturday in the western town of Grodno, where workers are on strike at a number of factories.
The 65-year-old president of Belarus has threatened to shutter production lines where workers have put down their tools beginning on Monday.
Staff at state-run media outlets have also staged walkouts and Lukashenko admitted this week that journalists from Russian Federation had been flown in to replace them.
A political crisis erupted in Belarus after the opposition refused to accept the results of the presidential vote that saw Lukashenko re-elected for a sixth term.
Russian Deputy Foreign Minister Sergei Ryabkov said on Saturday that he will soon meet his United States counterpart Stephen Biegun in Moscow to talk about the turmoil in the former Soviet country.
Lukashenko's main election challenger, Sviatlana Tsikhanouskaya, has called for another massive show of opposition at a protest today.
"We must first of all protect the western jewel in the crown of Belarus with the center in Grodno", Lukashenko said during his visit to a military firing range near Grodno, according to BelTA news agency.