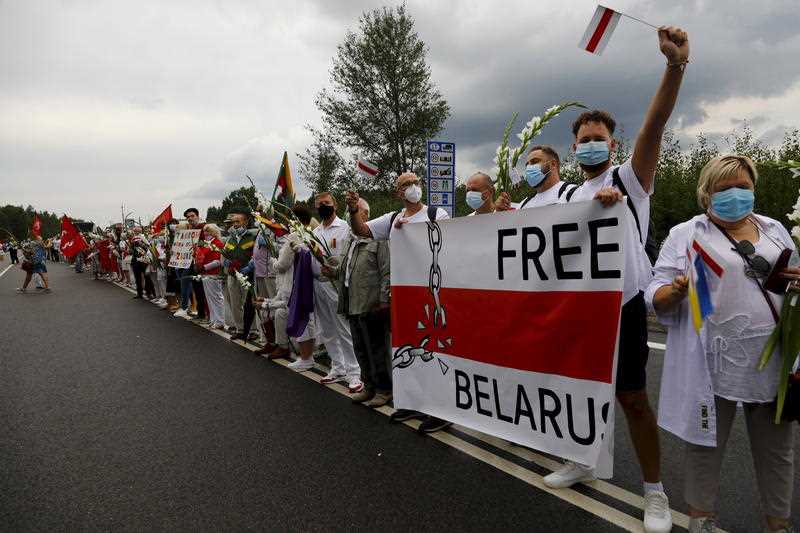 "The last thing we want to do is encourage another doomed uprising like the one in Hungary", says the European official, referring to the failed 1956 uprising against the Soviet Union in what then was a satellite of Moscow.
Belarus' authoritarian president of 26 years, Alexander Lukashenko, is facing weeks of protests against his reelection to a sixth term in the August 9 vote, which the opposition says was rigged.
The journalists planned to cover a demonstration in which hundreds of anti-government protesters marched along central Minsk street on Thursday evening.
President Vladimir Putin on Thursday said that for now, Russian Federation sees no need to send in its forces to intervene in Belarus but warned that it might if protesters there sought to remove president Alexander Lukashenko violently.
Lukashenko has himself accused Belarus' neighbours of interfering in its affairs.
According to Putin, Belarus is perhaps the closest country to Russian Federation ethnically, linguistically, culturally and spiritually.
Alexievich criticized Lukashenko, who is refusing to hold a dialogue with demonstrators, and said, "We need the world to help, and maybe Russian Federation".
Putin on Thursday said he had created the "reserve" of security forces at Lukashenko's request.
"We have of course certain obligations towards Belarus, and the question Lukashenko raised was whether we would provide the necessary help", said Putin, as Interfax news agency reported.
"I told him Russian Federation would fulfil all its obligations".
Putin said Russian Federation had created a "reserve" of security forces to send and assist Lukashenko's government in face of the protests but that for now, Moscow had not considered it necessary to deploy them and he hoped it would not need to. Three days after the election, White House press secretary Kayleigh McEnany said the administration was "deeply concerned by the Belarus presidential election" and urged Lukashenko's government "to respect the right to peaceably assemble and to refrain from use of force".
Protests broke out after Lukashenko was declared the victor in the August 9 presidential elections. "Our border guards didn't let them go, by the way; they couldn't leave", Putin said.
The presidential election saw Lukashenko re-elected for a sixth term with over 80 percent of the vote, while the opposition has stated that there were multiple violations, claiming that Svetlana Tikhanovskaya, an opposition candidate, was the real victor.
Despite the close cooperation, Russia-Belarus relations have often been strained by disputes.